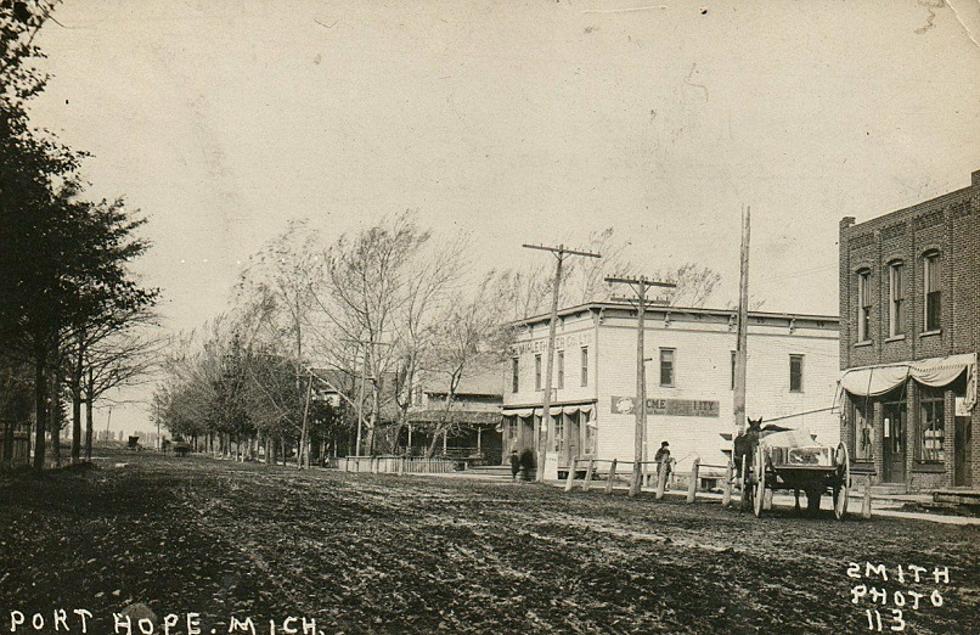 The Thumb's Lumber Capital of the 1800s: Port Hope, Michigan
available @ worthpoint.com
When it comes to Michigan's old mining and lumber businesses, we tend to think of the Upper Peninsula and the northern Mitten...and the Thumb sometimes gets overlooked.
Well, not this time. The Thumb had its share of successful lumbering, and the town of Port Hope along the shores of Lake Huron, is known as the Thumb's Lumber Capital.
It began back in 1855 when a man known as Doctor DiMond patented the timberland in the area. In 1857, two men by the names of Southard and Witcher were drifting aimlessly in a small skiff when they lucked out and finally made it to land. Being adrift for a long period of time, they kept hoping they would somehow make it to land...when they did, they named this landing 'Port Hope'.

William Stafford arrived, bought land, and built a sawmill in 1858 – and from then on, the town grew. For a while, the town was split on two town names: Port Hope and Stafford; but when a post office was established in 1860, it was called Port Hope, which it forever remained. Ironically, Mr. Stafford, who had also lent his name to the town, became the first postmaster of Port Hope.
Lumbering in Port Hope was super-successful until the mill was destroyed. An excerpt from the old chimney's Historical Marker reads: "This chimney.....is all that remains of the lumber mill.....For a score of years this town was the center of lumbering in the Thumb. It also became an important producer of salt. In 1871 and again in 1881 the mill, the docks, and possessions of hundreds of people were destroyed by fire."
The 80-foot tall chimney is all that is left and sits in Stafford park along the lake shore.
Port Hope has a good many of the old original buildings throughout the downtown area, and has a population between 250-300.
Vintage Photos of Port Hope: 1900-1960
MORE MICHIGANIA:
Ghost Town of Port Sheldon
Thomas Edison's Port Huron Home
Abandoned Port Austin Air Force Base