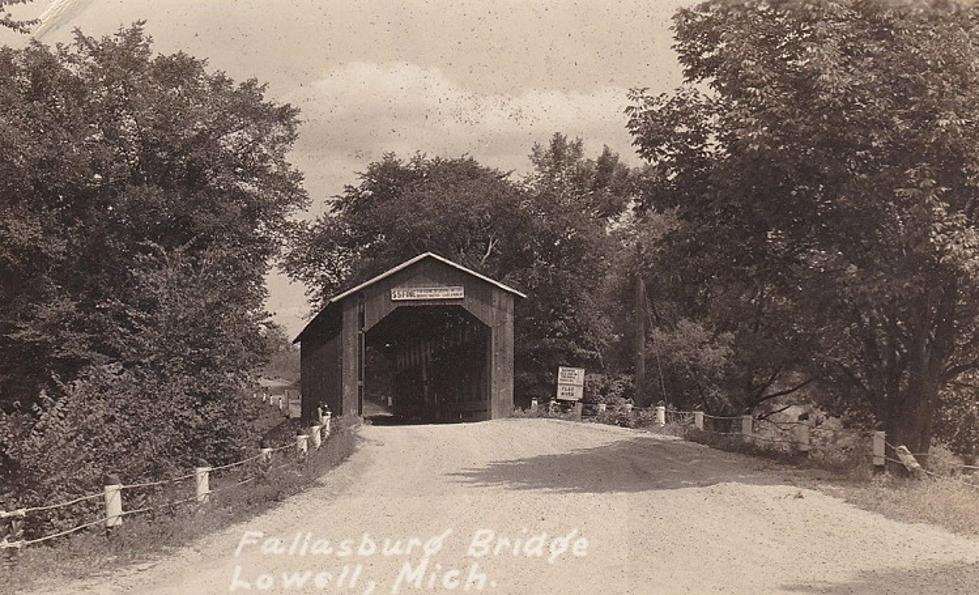 The Fallasburg Covered Bridge: Kent County, Michigan
available @ worthpoint.com
Just west of Ionia and north of Lowell sits the village of Fallasburg. It was founded and settled in 1837 by two brothers: John and Silas Fallas from Tompkins County, New York. Fallasburg became a stagecoach stop between Ionia and Grand Rapids; it also was instrumental in the Grand Rapids furniture industry, as the Fallas brothers built a chair factory that became a stepping stone for GR's furniture boom.
The first bridge was built here in 1840 but was destroyed when a springtime thaw flooded the river and caused massive ice jams that eventually ruined the bridge.
In 1871, the builder of the Ada Covered Bridge built a new Fallasburg bridge for $1500. Since then occasional repairs were necessary: new abutments with concrete in 1905, and other major repair work in 1945 and 1994.

The Grand Rapids Press called it "a gateway to a place that time forgot," and traveling eastward thru the bridge, once on the other side you truly do get that feeling.
"Once you cross that bridge, my friend – the ghost is through – his power ends!"
That quote from Disney's Legend of Sleepy Hollow can loosely be connected to the Fallasburg Bridge. What would an almost 200-year-old covered bridge be without some kind of spooky legend?
Over the years, legends grew about hauntings on the bridge. The main one tells the tale of a woman who was believed to be a witch and hung from the bridge. Her ghost still inhabits the inside. Walkers over the bridge and picnickers have related their experiences of witnessing floating apparitions; disembodied voices were heard coming from the inside of the bridge when it was empty.
These rumors and/or legends are celebrated by the town every Halloween, and even paranormal investigators have visited, looking for proof. Whether there is a haunting or not, the Fallasburg Bridge is a very historic place to visit, any time of year. The gallery below has a handful of old and recent photos of the bridge!
The Fallasburg Covered Bridge
MORE MICHIGANIA:
Keystone Bridge in Ramsay, Michigan
Constructing the Mackinac Bridge, 1954-1957
Abandoned Sycamore Creek Bridge, Lansing