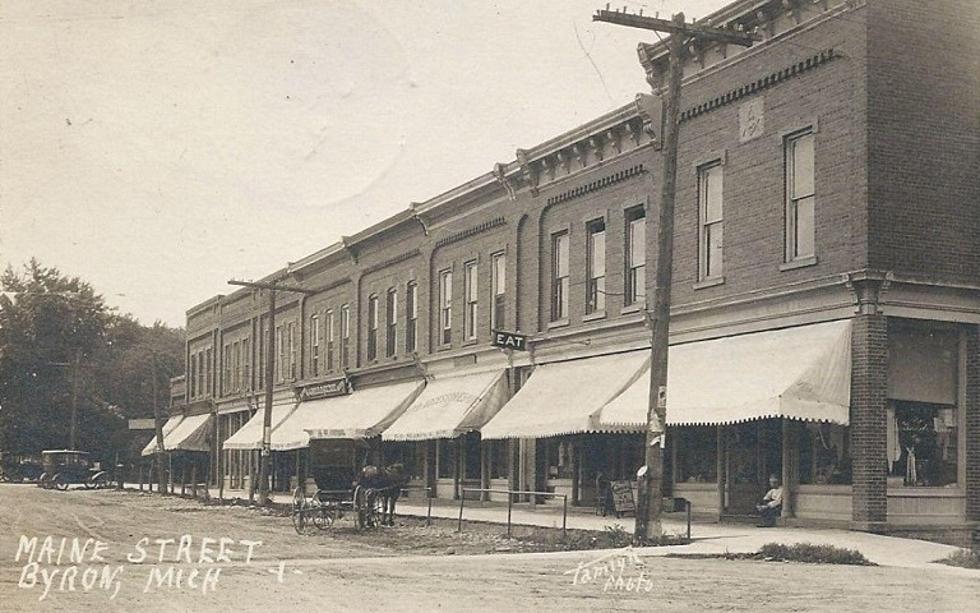 The Small Town and Two Celebrities of Byron, Michigan
available @ worthpoint.com
Shiawassee County does not have many towns to boast about, but there is the town of Byron, a village that was the last stagecoach stop between Detroit and Ionia...plus, a woman who was born in Byron has her own Historical Marker. More on that in a few minutes...
In September 1836, the first building constructed in the town was a boarding house for the employees of the Byron Company, who were brought in to build a dam on the Shiawassee River.
By 1840 Byron hadn't grown much – it only consisted of five families. Mail was brought in from nearby Holly and later by stagecoach. Once the railroad came through, the mail was brought by rail until Byron's own post office began operating.
FAST FACTS:
1824: The first settlers arrived and founded the community.
1838: Dr. Abner Sears was the first physician.
1840: The first school class was taught.
1841: Byron Hotel.
1842: The first flour mill.
1843: First school meeting.
1845: The first school house.
1865: The union school building.
1873: Byron is incorporated.
1885: Many downtown brick stores constructed for a business section.
A couple of people who were born in Byron made names for themselves:
1) Ellen May Tower was born in Byron in 1868. She became an army nurse and died in 1898 during the Spanish-American War. For a while, she worked at the Michigan School for the Blind in Lansing. She volunteered for the army in April 1898 and ended up caring for wounded and ill soldiers during the Spanish-American War. At the age of 30, Ellen died of typhoid fever in one of the hospital tents in December 1898. She became the first Army nurse to die in another country and one of the first women to receive a Michigan military funeral. There is an Historical Marker for her at 312 West Maple Street in Byron. In 1899, not long after her death, the town of Tower in Cheboygan County named themselves after her.
2) Erik Jones, born in 1996. He became a race car driver, and was the first driver to win Rookie of the Year in all three NASCAR national series.
The Small Town of Byron
MORE MICHIGAN SMALL TOWNS:
Salem, an Unincorporated Village in Washtenaw County
The Shadow Town of Silverwood
The Ghost Town of Pioneer