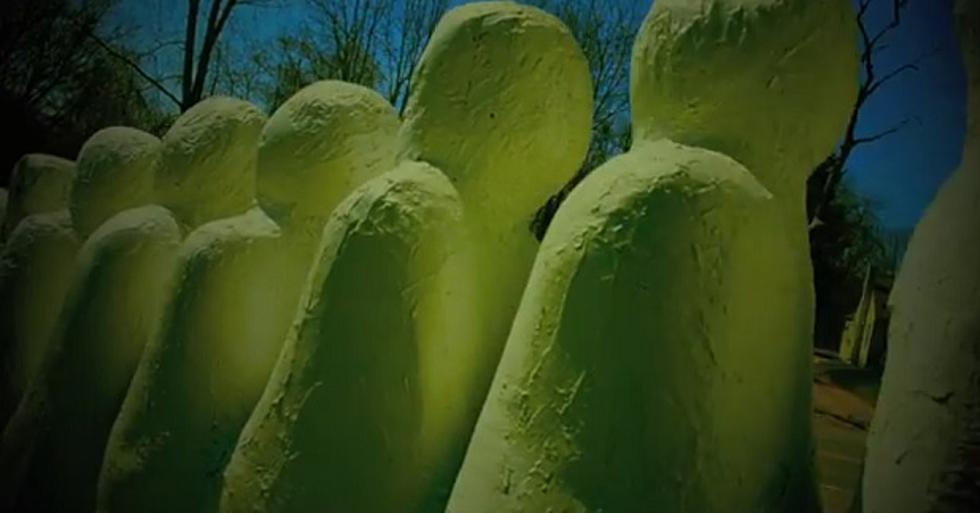 ROADSIDE MICHIGAN: "Procession To Hell"
Screenshot courtesy of Ahsulak, youtube
This sculpture is known by many as the "Procession To Hell". However, to me, it looks like a lineup of mummies on parade, standing in grass just south of Dexter.
It was originally a line of 16 fiberglass human figures, but the littlest one in front has had trouble maintaining...it may or may not still be there, thanks to it's constant crumbling.
The figures get smaller in size, almost looking as if they are descending...so, therefore, someone decided to dub it 'Procession To Hell", even though the correct name of the sculpture is "La Raza" ("the race" or "the people") by artist Ronald Farrington Sharp.
Whatever it is, it doesn't seem to be anything that freaks out the nearby residents. Each Christmas, the figures get decked out in Santa Claus hats, and on homecoming, the local high school students put 'em in football jerseys. Sometimes, you'll see the figures with red bow ties or ribbons around the necks.
Whatever the meaning is supposed to be: mummies, souls departing to hell, or just simply a line of nowhere people, drive by and get a picture!
It's located at 1100 Baker Road in Dexter, near the corner of Baker & Marshall roads, about a half mile north of I-94.
Enter your number to get our free mobile app