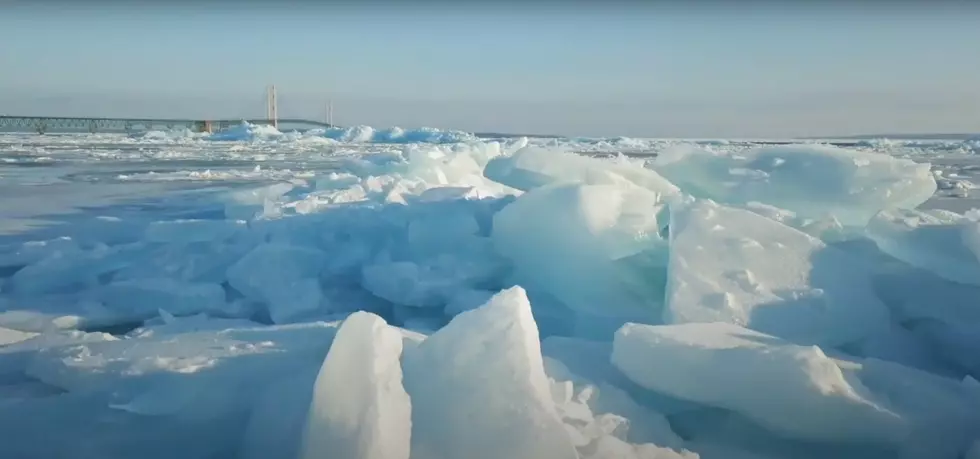 Photos: Blue Ice Is Back at the Mackinac Bridge This Year
Credit: Storyful Rights Management via YouTube
The Upper Peninsula is amazing. The people, the food, the scenery. It's no wonder folks escape WAY up north across the mighty Mackinac to really get away.
Doesn't matter if you're headed up to visit Mackinac Island, do some hunting, finding the best pasties, peep the Northern Lights (you can really see the aurora up there) or maybe to see THE BLUE ICE?!?

Enter your number to get our free mobile app
The last time I saw both (Northern Lights and Blue Ice), I was living in Alaska. But you don't have to travel that far for these marvels.
Sometimes us trolls beneath the bridge can peep the magnificent bands of green when the skies are clear.
But if you want to see these gigantic chunks of blue ice, you might want to head north and catch them now while they are in the Straits of Mackinac.
Honestly, if I didn't know any better (or that these were taken near the U.P.) I'd swear these were photos of Superman's Fortress of Solitude.
You can take a look right now without leaving the cozy comfort of wherever you are by clicking HERE thanks to the Mackinac Bridge Authority.
Have you ever wondered WHY the ice is blue? Something in the water? Actually it's due to something NOT being in the ice. Air bubbles.
Apparently, it's due to a lack of air bubbles, and how the eye perceives the ice, according to staff at the Apostle Islands National Lakeshore, where blue ice also can form near the famous ice caves. (MLive)
So take a trip up north and take some photos. But if you're headed up for some sightseeing, be careful and STAY OFF THE ICE.
The MCPD wants everyone to enjoy the sights but do so from the shoreline and resist getting closer and walking on or climbing the ice. It's slippery because ICE and there's still some spots of open water.
Be safe and enjoy the sights.
The 100 Best Places to Live in the Midwest