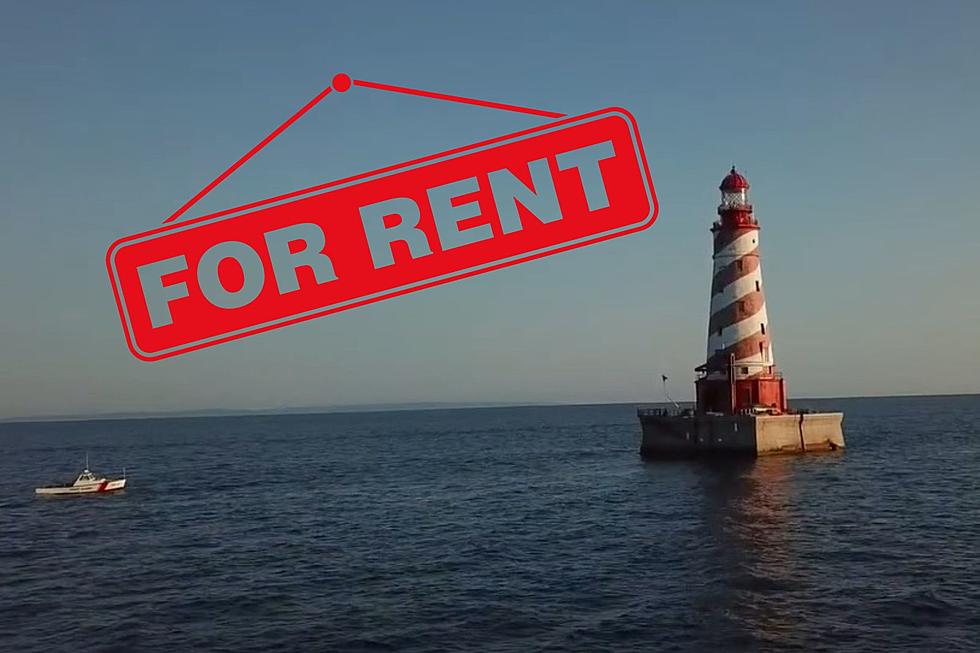 Here's How You Can Rent the Tallest Lighthouse on the Great Lakes
V Stream via YouTube/Canva
I didn't know that it was a dream of mine to stay in a lighthouse until this very moment.
Starting March 1, 2023, you'll be able to book a rare overnight stay at the tallest lighthouse on the Great Lakes. The real question is: how much is this once-in-a-lifetime opportunity worth to you? Because it's not cheap!

About White Shoal Lighthouse
The only red and white candy-striped lighthouse in the United States, White Shoal Lighthouse was built in 1908. The standalone lighthouse sits in the waters of the Straits of Mackinac about 20 miles west of the Mackinac Bridge.
Originally built to protect nearby vessels from the shallow waters of the shoals, the lighthouse is now owned by the White Shoal Light Historical Preservation Society (WSLHPS) which offers these one-of-a-kind stays.
According to MLive, the Preservation Society paused overnight stays during the Covid-19 pandemic. This means whoever is lucky enough to book a stay here will be the first visitors the lighthouse has seen in over 2 years!
Need to Know
If you are thinking about booking a stay here, just know that this adventure is not for the faint of heart. The lighthouse is only accessible via a 90-minute boat ride from Mackinaw City which is included in the price of your stay.
As this a real lighthouse some of the rooms are only accessible via ladder or staircase so come prepared to not only get yourself up to the lighthouse but your luggage and groceries too! There is a full working kitchen in the lighthouse, but guests are responsible for their own groceries.
Oh, and make sure your travel dates are flexible! Due to rough water conditions, you may not be able to make it back to shore as planned. Says the Preservation Society website,
Once you are at the lighthouse, you are there until we can get you safely back to shore.  That means you may have to stay extra nights (at no additional fee).
You may also encounter a few unexpected guests during your stay as past guests have reported paranormal activity. This sounds fun, doesn't it?
How to Book
Bookings will be available starting March 1, 2023, on the WSLHPS website and 3-night stays start at $1,500. The lighthouse will host guests from August 18 through September 11 only. Single and double occupancies are available for up to 5 guests maximum.
Of the 9 levels of the lighthouse, lighthouse historian Terry Pepper writes,
A kitchen, living room and one bedroom made up the third deck, with two more bedrooms and a toilet located on the fourth. A living area and another bedroom were found on the fifth deck, and the sixth and seventh contained a single open room on each. The service room made up the eighth level, and the watchroom topped the living quarters on the ninth.
Are you brave enough to book a stay at the tallest lighthouse on the Great Lakes? If a WWII submarine is more your style you can always rent the USS Silversides in Muskegon!
Take A Look At Lake Michigan's USS LST 393, Which Took Troops To Normandy on D-Day
The USS LST 393 is one of only 2 remaining LST which supplied troops and goods to soldiers in WWII out of the 1,051 that were made. This ship also serves as a museum of wars past.