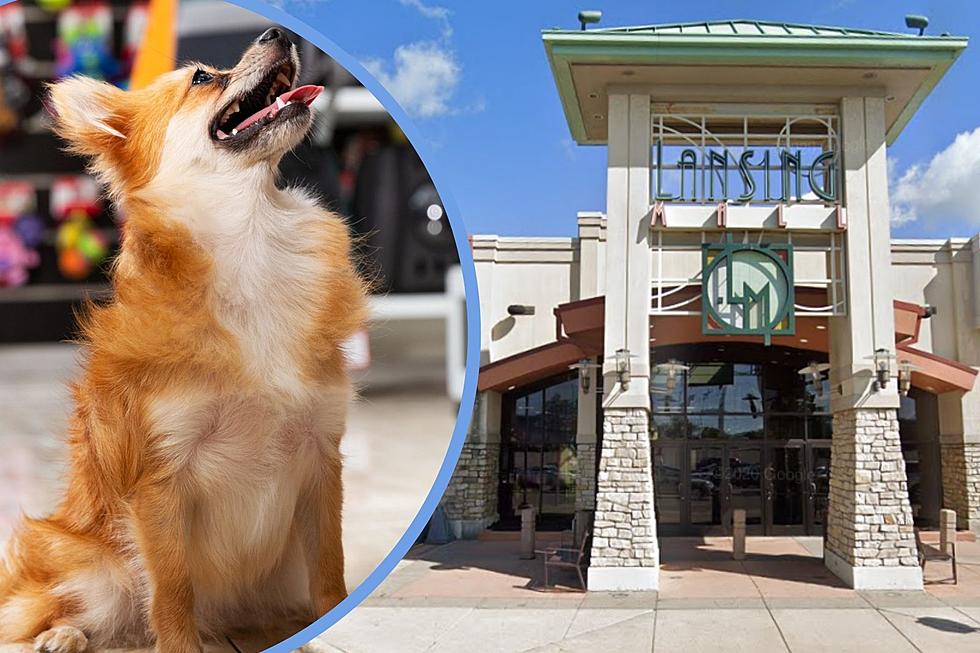 A Dog-Lover's Dream: You Can Shop With Your Pup at the Lansing Mall
Image Courtesy of Google Street View / JackF / Canva
We were "today years old" when we learned this was a thing after seeing someone in a local community Facebook group post a video walking their dog inside the Lansing mall.
Of course there was some debate we will break down in the comments but, for now, can we just talk about the simple fact this is even possible in the first place.

Lansing Mall, A Dog-Friendly Place to Shop
While you see often see dogs in other stores, shopping areas, etc. they are usually only allowed there because they are service dogs. They are on the clock meaning you cannot distract them from doing their job, no matter how bad you want to tell them they're a good boy/girl.
Many places are service dog-friendly, but when it comes to all dogs, they are all welcome at the Lansing Mall!
According to the Lansing Mall's "Information" page on their website, they explicitly state they are "Dog Friendly."
Now, as Reddit users in the r/lansing subreddit have pointed out, while the doors do say "no animals allowed" another user shared, "They are allowed! I go there all the time with the dog. The new security guys always stop me and they end up calling their boss and getting the okay."
While there is little-to-no other information given beyond that, the Lansing Mall's code of conduct does have some guidelines that can apply to both people and pooches like prohibiting "Any activity that threatens the well-being of the property", "Excessive loitering", and more. As long as you and your pup are not in violation of these guidelines, you should be good!
How to Be a Polite Pet Owner at the Mall
Of course, it seems so fun to take your pet for a walk through the mall. However, if you and your pup make it less fun for others, that can be a problem.
When it comes to being a good pet parent as well as respectful to the humans around you some tips include:
Make sure your dog can handle being around more people/other dogs
Pack some poo-pick-up baggies and be sure to clean up after yourself
If your dog does not do well on walks at home, don't bring them
Bring treats to award good behavior
Take them home if they start getting unruly (excessive barking, not listening to commands, etc.)
Arguments For and Against Dogs at the Lansing Mall
The people who love dogs get it, the people who don't, don't...that can definitely be said for a lot of situations and shopping at the Lansing mall with dogs around.
While, as a dog lover myself, it seems like a wonderful way to spend the day, I can understand where people's disagreement with it can come from.
For example, maybe someone just doesn't want to listen to someone else's dog barking while they're trying to have a peaceful day of shopping. Nothing wrong with that, however, might we ask what that person feels about other people's screaming children?
The "equating dogs to children" debate is one that wages on but is also somehow valid here. Personally, I'd rather not hear barking or screaming anywhere but we live with it everywhere else, right?
Some naysayers may even raise the point that your pets don't need to go everywhere with you and to that, we just would like to point out that every support animal is not necessarily also a service animal. Having that pet around could ease a lot of anxieties for someone who is also trying to enjoy time at the mall and as long as nobody is getting hurt, what's the harm?
Lastly, the argument that there are a lot of bad pet owners out there who do not clean up after their pets is absolutely a valid one. If you do take your pet, it's common sense at this point to assume that is a stipulation of your dog's presence, don't forget that or you'll ruin it for everyone else, including other pet owners.
What are some other dog-friendly shopping spots around Lansing?
LOOK: The least obedient dog breeds
KEEP LOOKING: See What 50 of America's Most 'Pupular' Dog Breeds Look Like as Puppies