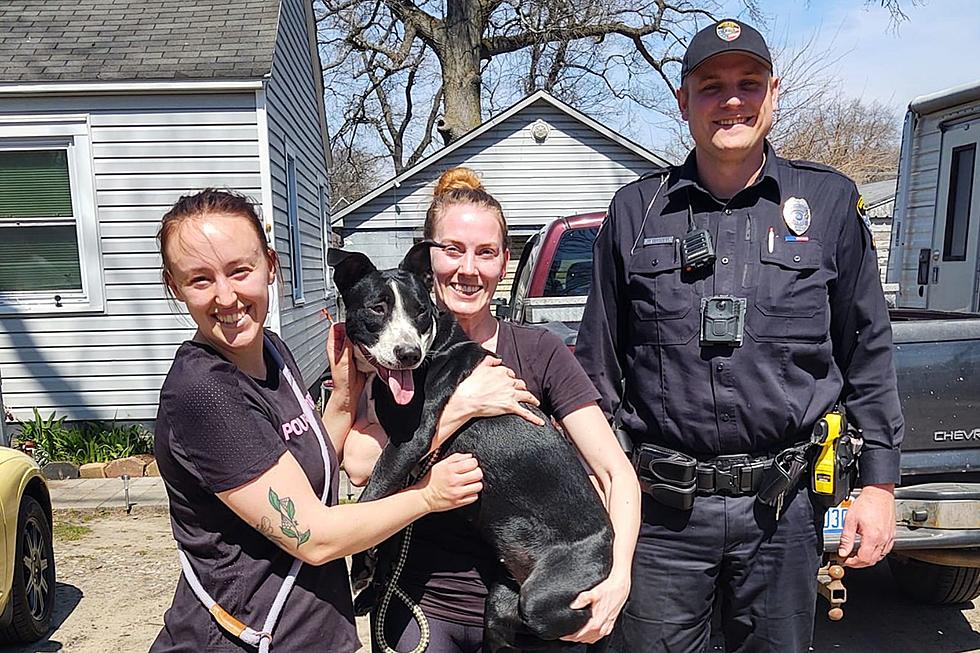 Shelter Employees, Good Samaritans Rescue Dog From Busy West Michigan Highway
Pound Buddies, Facebook
A dog darting through traffic on a busy West Michigan highway is safe after Good Samaritans and animal shelter employees worked together to rescue her.

A loose black and white dog brought US-31 to a standstill near the Sherman exit in Muskegon Friday.
Kaylee Parisian of Pound Buddies Animal Shelter and Adoption Center in Muskegon was one of the people attempting to save the dog.
She tells Fox 17 that it took a while to get a hold of the scared pup,
So I got out, went across the street and tried to like get it to come to me but she was really scared so she took off. My boss ran through the grass and was like, 'Hey, come over to Broadway!
At one point they lost sight of the dog, but after a long chase on US-31 and through some side streets, the dog laid down on a nearby porch.
Kaylee says throughout the ordeal, they got tips from the public and many drivers on the highway stopped to help, bringing traffic to a halt. Police also assisted in the rescue.
While the dog's feet were a little cut up, she is otherwise OK! She does not have any tags or a microchip, so she's currently being taken care of by Pound Buddies.
The shelter will seek to reunite her with her owners, and if that isn't possible, the pup will eventually be put up for adoption.
For updates on the dog, follow Pound Buddies on Facebook.
Thank you to the shelter and to everyone who stopped to help!
If you'd like to support Pound Buddies in their work, you can do so here.
RANKED: Here Are the 63 Smartest Dog Breeds
Does your loyal pup's breed make the list? Read on to see if you'll be bragging to the neighbors about your dog's intellectual prowess the next time you take your fur baby out for a walk. Don't worry: Even if your dog's breed doesn't land on the list, that doesn't mean he's not a good boy--some traits simply can't be measured.
Most popular dog breeds that are good for families