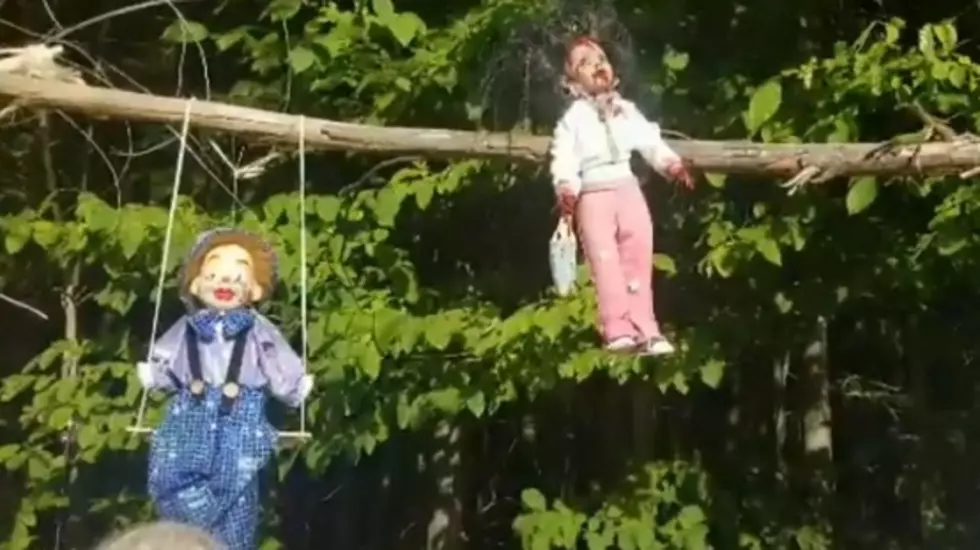 The Creepy Dolls of Oscoda County
Dale Neff, youtube
Ya gotta keep a sharp eye out when you're traveling Michigan's roads. When you get off the Interstates, you never know what you'll come across…that's a fact.
One such oddity is the creepy doll display found along the forest line off M-33 (a/k/a N. Abbe Rd).
You'll find it on the east side of the road, east of Grayling between the small towns of Fairview and Comins. This display of posed dolls can creep you out, even in daytime. Visiting this at night would be just plain frightening.

Some dolls are hanging from the trees, while others are tied with rope, driving vehicles, dressed in odd attire, posed in twisted shapes, painted to look bloody, sitting on furniture, playing with toys…..it's just weird.
Why would someone pose these dolls alongside the road? Just for fun I would assume, the same reason there are shoe trees…..and there is a shoe tree there, just a few feet ahead of the dolls. I admit, it's somewhat unnerving to see these dolls out in the countryside, away from houses.....makes me think of a "Twilight Zone" episode.
It seems that travelers keep putting extra dolls in the display, so it may be even more elaborate by the time you visit. If you do, be respectful of this eerie display - and also the person who took the time to make it.
And if you choose to add to the display.....don't put the dolls in provocative poses.
THE CREEPY DOLLS OF COMINS TOWNSHIP
MICHIGAN CRIME SCENE: Look Inside the Abandoned 'Jeepers Creepers' Schoolhouse
MORE: Take a Look at Kalamazoo's (Reportedly Haunted) State Theatre
UP NEXT: Your Own Personal Haunted Michigan Lighthouse Tour Roadtrip
Lake Michigan Mothman Sightings 2020 to June 2021
The legendary Mothman is most famously known for his romp around Point Pleasant, West Virginia has also been reportedly spotted in the Great Lakes region as well. These photos are not from actual sightings and are mere illustrations to help you get the idea!
LOOK INSIDE: You Could Stay At One of the Famous Charlevoix Mushroom Houses
There is a lot of unique architecture to see in the state of Michigan from the historic homes in Detroit to the Broad Art Museum on Michigan State University's campus. One of the most well-known is the mushroom house in Charlevoix.
These cute little cottages were designed by architect Early Young and overlook beautiful Lake Michigan. Take a look inside one of them, and if you're interested, you can even book a stay in it through
airbnb
!