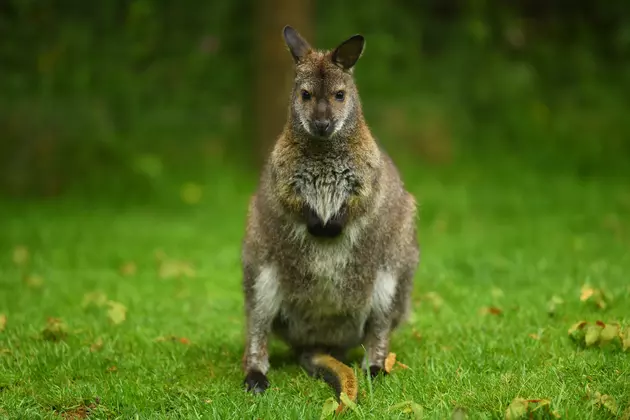 5 Month Old Wallaby Missing from Detroit Zoo
Getty Images
Zoo officials will always be the first to tell anyone whether an animal is missing from its original habitat.
That's what happened over the weekend at the Detroit Zoo. They're not quite sure what happened to a 5 month old wallaby or why it's missing in the first place.
According to mlive.com:
The Zoo posted an update on its Facebook page in the comment section of its missing wallaby joey post, saying there are native predators which live near the zoo. They believe one of them probably flew in and snatched the joey out of the habitat.
I remember going to the Detroit Zoo years ago when I was in Junior High School. My class went on a field trip and we had the time of our lives. We saw just about every animal you could imagine, even a wallaby!
En.wikipedia.org tells us about the Detroit Zoo:
The Detroit Zoo, also known as Detroit Zoological Park, is a zoo located in Royal Oak and Huntington Woods, Michigan, about 2 miles (3.2 km) north of the Detroit city limits, at the intersection of Woodward Avenue, 10 Mile Road, and Interstate 696. It is operated by the Detroit Zoological Society (DZS), a non-profit organization, along with the Belle Isle Nature Center, located within the city limits of Detroit on Belle Isle. The Detroit Zoo is one of Michigan's largest family attractions, hosting more than 1.5 million visitors annually.
I would personally like to know what kind of predator could have taken off with this joey. And will Zoo officials be able to locate this animal at some point.
Apparently this sort of thing has never happened before at the Detroit Zoo. Officials are still searching for answers.
Mlive.com adds:
Security and staff are reviewing trail cameras and surveillance cameras all over the Zoo as they investigate the disappearance.
LOOK: Stunning animal photos from around the world
From grazing Tibetan antelope to migrating monarch butterflies, these 50 photos of wildlife around the world capture the staggering grace of the animal kingdom. The forthcoming gallery runs sequentially from air to land to water, and focuses on birds, land mammals, aquatic life, and insects as they work in pairs or groups, or sometimes all on their own.