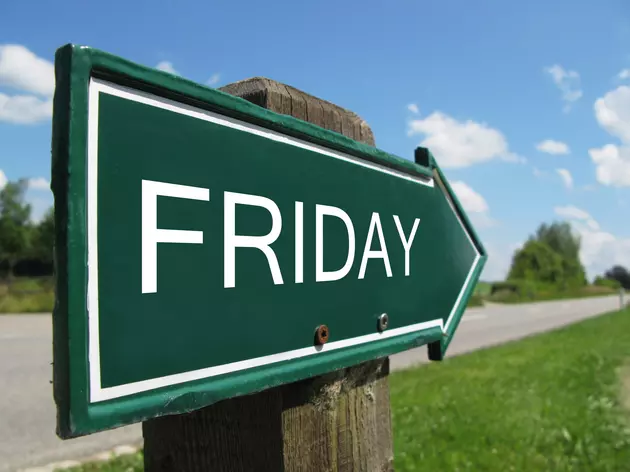 Top 10 Reasons Why Friday is the Best Day of the Week
Eugenia Chaikina
That's a really good question, why is Friday the best day of the week? First thing that comes to mind, WE MADE IT TO THE WEEKEND!
Seriously, who doesn't look forward to Friday and how good it makes everyone feel?

Let's break it down with the top 10 reasons why Friday is the Best Day of the Week, courtesy of listedfit.com.
10. Better mood. Friday is that one special day of the week where everyone's mood seems to change for the better. The biggest reason: the weekend is here and we can all relax for two days.
9. Time for yourself. That's the best part of Friday, knowing that you can have some time for yourself over the weekend to catch up on sleep, work on that project, go for a bike ride, and so much more.
8. You can stay up late on Friday night. This is my favorite thing to do. Stay up late, pop some popcorn and watch Netflix.
7. Casual attire at the office. No big deal for me or our entire staff. We all dress in casual attire for most of the work week. However, Friday is the day to wear your favorite sports team attire.
6. Friday lunches are always fun. Depends on who's buying but why are Friday lunches always fun? Because it's FRIDAY!!! Treats are also welcome on Friday's.
5. Listening to everyone's plans for the weekend. You can talk to several co-workers on Friday and count on hearing different weekend plans from everyone of them. For example: I'm going to the MSU football game and tailgating all day.
4. The Friday afternoon wind down. It starts out as an 8 hour workday, but seems to start winding down way before that. Friday seems to be the day where everyone takes it a little more easier.
3. Payday. Friday can simply be the best day of the week because of payday. A lot of people get paid on Friday, which is definitely a mood changer for many.
2. Hanging out with friends. Isn't hanging out with friends the best. Just making dinner plans with friends and heading out on a Friday night makes life so much more enjoyable.
1. Spending time with family. I couldn't agree more. There's nothing better than spending time with your spouse, your kids, your parents, and let's not leave out the family pet. Even planning a game night with your family is great fun.
50 Most Popular Chain Restaurants in America
YouGov investigated the most popular dining brands in the country, and Stacker compiled the list to give readers context on the findings. Read on to look through America's vast and divergent variety of restaurants—maybe you'll even find a favorite or two.
LOOK: TV Locations in Every State