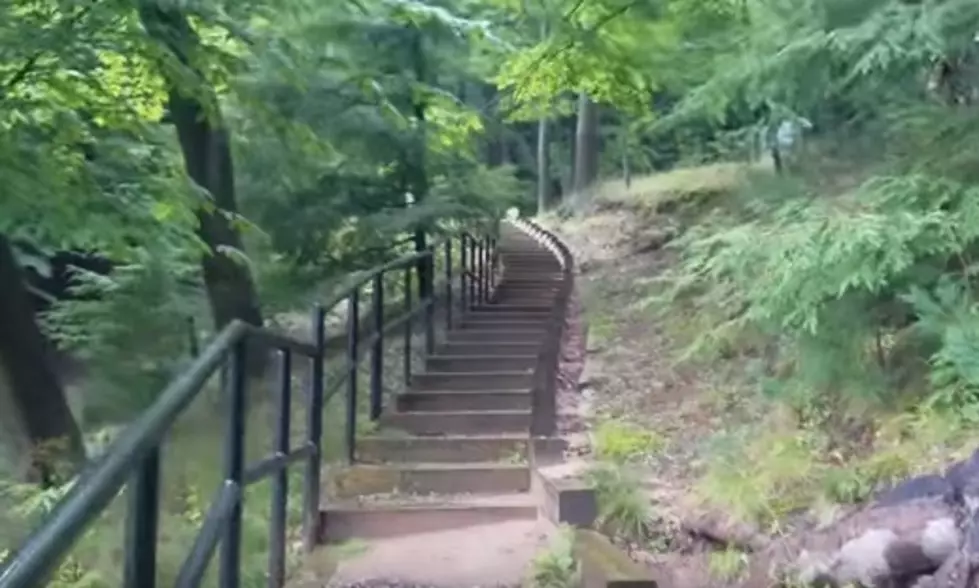 HAUNTED MICHIGAN: The "Stairway To Hell" in Lake Forest Cemetery
Screenshot courtesy of Lakeshore Paranormal, youtube
Just what the heck is going on at Lake Forest Cemetery in Grand Haven?
There's an awesome stairway that leads you to the top of a hill, where members of the Ferry family are buried. The Ferrys were one of Grand Haven's founding families, which included Noah Ferry, a major who was killed in the battle of Gettysburg. His brother William Ferry, a Lieutenant Colonel, served in the same war and afterward became the Mayor of Grand Rapids.
However, even though there are notable people buried there, the stairway has been called the "Stairway to Hell" and sometimes the "Stairway To Heaven".
When a person is buried at Lake Forest Cemetery, the spirit will journey up the stairs. Once at the top, if their soul is meant to go to Heaven, an incredible white light will appear, which is interpreted as the door leading to the entrance of Heaven. If the soul reaches the peak of the hill and there is no light, they are damned and sent back down the hill, where Hell is waiting for them.

So what else is going on in that cemetery? PLENTY, evidently.
For another, there's 'The Phantom Gateway" that will get you inside the cemetery, but not out.
Another Lake Forest haunting is "The Blue Man" who has been seen among the graves and on his own tombstone.
Curious? You can read about "The Phantom Gateway" and "The Blue Man" by CLICKING HERE.
Lake Forest Cemetery is located at 1304 Lake Avenue, Grand Haven. Remember, if you wanna visit this (or any) cemetery after hours, always get permission to enter and protect yourself from prosecution. Investigators who did not get permission have been apprehended in the past. When you go ghost-hunting treat cemeteries and all places with the respect they deserve; don't vandalize or litter…..the spirits are watching, and you could somehow pay the consequences when you least expect it.
Check out HUNDREDS more Haunted Michigan locations by CLICKING HERE!
MORE HAUNTED MICHIGAN STUFF!
20 of Michigan's Greatest Urban Legends
13 Ingham County Hauntings
Dog Lady Island
50 Haunted Michigan Locations
Below is just the tip of the iceberg—a list of fifty Michigan hauntings that have been "reported" in cemeteries, houses, woods, jails, businesses, neighborhoods...if you can name it, there's probably a haunting for it.
Take a look at the list of fifty Michigan hauntings below and come to your own conclusions.
The Haunting of McMorran Place
The Colorful Adventure of Finding Traverse City's Hippy Tree
MORE: Take a Look at Kalamazoo's (Reportedly Haunted) State Theatre
10 Spooky Movies With Michigan Ties