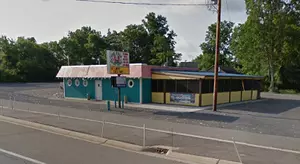 HAUNTED MICHIGAN: The Ghosts of Somerset Center
Courtesy of Google Maps
<<< KEEP IN MIND – WITH ANY PLACE THAT IS NOT PUBLIC, ALWAYS GET PERMISSION TO ENTER BUILDINGS, LOCKED CEMETERIES, ETC. TO PROTECT YOURSELF; IT'S NOT THAT HARD. MANY SELF-CALLED "GHOSTHUNTERS" HAVE BEEN APPREHENDED THAT DID NOT GET PERMISSION. >>>
The former Lakeside Lounge (now called 'The Deck Down Under') in Somerset Center is one of Michigan's notorious haunted places.
Located on US12, just a tad west of McCourtie Park (another Michigan haunt), sits this restaurant, with a ghost that was named "The Captain."
While the establishment was known as the Lakeside Lounge, this ghost was known to make his presence felt AND seen by many guests and employees alike. He's been seen in mirrors, restrooms, behind the bar, the dining area, the kitchen and even walking into the walk-in cooler. It's not just something that catches the corner of your eye...this is something that has been seen head-on. Dark, human-shaped shadowy figures can be seen day or night, in any part of the establishment. This playful ghost has been known to screw around with band equipment, messing with volume controls on the on/off switches...and some feel he has a ghostly female accomplice, as witnesses claim to have seen the shadowy figure of a female.
'The Captain' and his female friend aren't the only ones said to haunt the place; supposedly, the ghosts of two girls haunt the parking lot. The story says that these two girls were killed by a driver who was either drunk or not paying attention to the road; and nowadays on some days & nights, you can hear their screams along with noises resembling the accident.
In the past I went down there a few times and talked with the management, who were always very cordial and open to talking about these ghostly occurrences. I suggest you pay a visit and hear the stories firsthand...keep in mind, it's under new management, so be respectful...and maybe you'll experience your own sighting or other "paranormality"! The ghosts were never harmful, just seemingly playful and loved to mingle with mortals...
Aside from the legendary hauntings, it's a wonderful place to go eat and hang with friends...so go grab a bite, ask about the legends and learn more about it!
Located at 11303 Chicago Road,
it is sometimes listed as in either Somerset Center or Jerome.