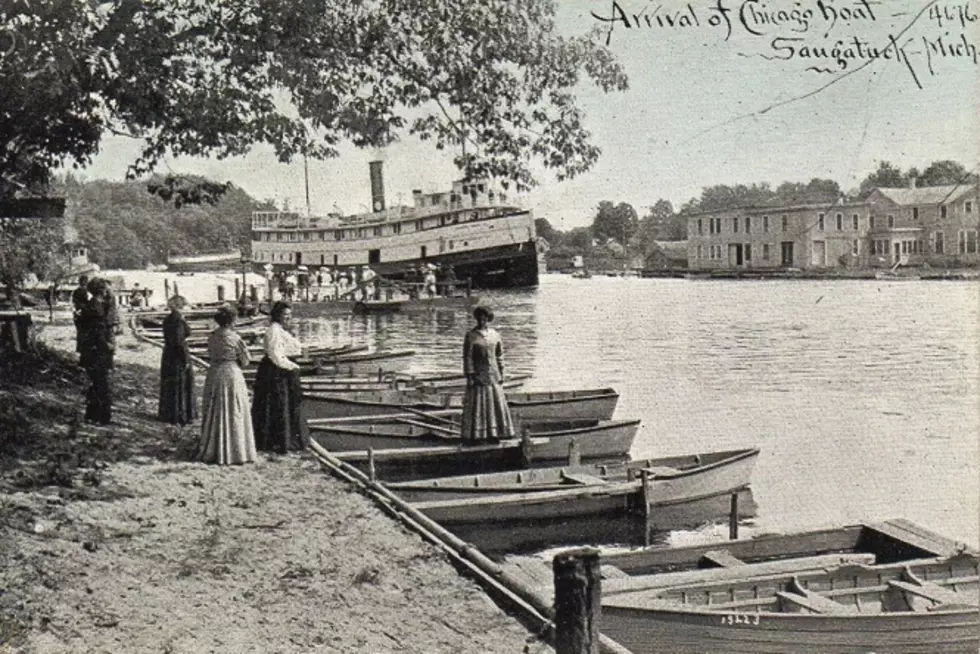 How Saugatuck, Michigan Looked From the 1860s-1950s
available @ worthpoint.com
Located in Allegan County, Saugatuck still holds up as one of Michigan's favorite places to visit during the summer....I've been there myself and stayed at one of the bed & breakfast places along the river.
Saugatuck's beginnings go back to 1830 when William Butler brought his family here from Connecticut and settled in. He platted the town in 1833 and named it 'Kalamazoo' after the river; a post office by that name followed around 1835. However, in 1836, the name 'Kalamazoo' was given to a city a number of miles south, and this new village was re-named 'Newark'.
In 1842, a new postmaster, Stephen Morrison, was hired and he decided to re-re-name the town. Wanting to honor the Potawatomi tribe, he chose the name that meant "river's mouth" in their native language: from then on, the town was known as "Saugatuck".

In 1868, both village and township were officially re-named, and the village became incorporated that same year.
During the remainder of the 1800s, it was an important lumber and port town and also turned into a mecca for aspiring artists, with its own art workshop. Another tourist draw was the "Big Pavilion", built in 1909. It brought in many of the popular bands and singers throughout the decades until it burned down in 1960.
Currently, Saugatuck thrives with many odd shops to peruse, beaches, B&B's, the dunes, art galleries, food, and so much more. Now take a look at the gallery and see what Saugatuck really looked like from the 1800s thru the 1950s!
Vintage Saugatuck: 1860s-1950s
MORE VINTAGE MICHIGAN TOWNS:
Vintage Photos of Alpena, 1900-1940s
Vintage Frankenmuth
Gay, Michigan: Then and Now