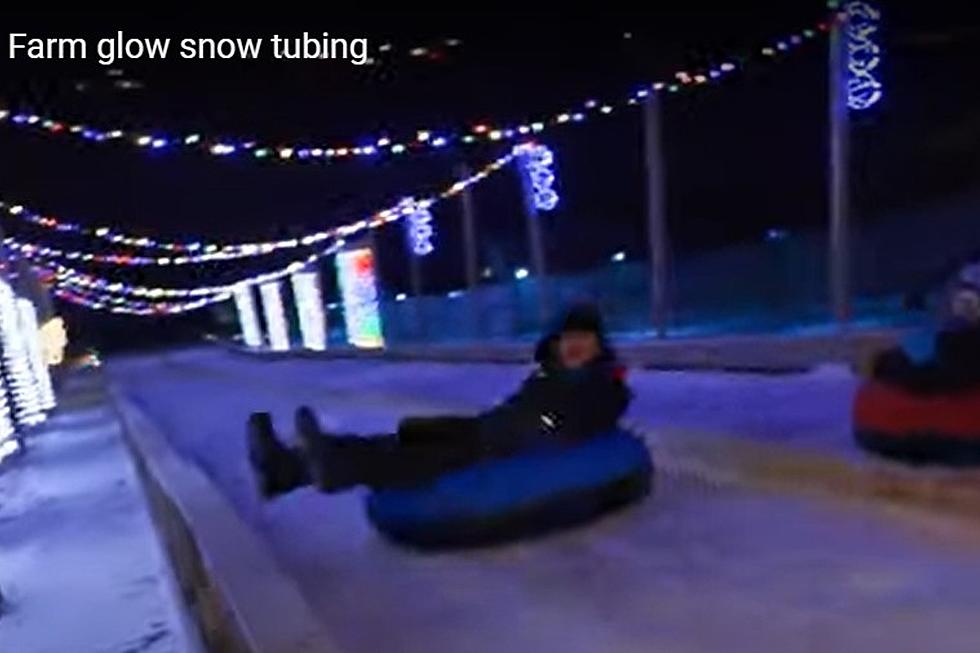 'Glow Snow Tubing' Is Racing Down Colorfully Lit Hills in Bloomfield Hills [VIDEO]
Mlive via YouTube
There's a little bit of everything at Bowers School Farm in Bloomfield Hills. There's a farm store, they host summer camps every year, and now they've added 'Glow Snow Tubing' which puts a colorfully illuminated twist on snow tubing.
The 200-foot hill has four lanes for tubing and as you'll see in the point-of-view video below from Mlive, the colorful lights that surround the slippery trail make it even more of a thrill.
How is the Hill Prepared?
Alan Jaros is the director of Bowers School Farm. He tells Mlilve that there's carpet underneath this year's snow on the hill. It's sprayed down with water so it can freeze into a slippery trail much like a luge.
"The hill is grass in general. Years ago, we used it, but because we haven't had that many seasons with a lot of snow on this side of the state, we were only using it a couple weekends a year," Jaros says. "The setup is a wooden structure, kind of like a luge. It can be run with snow or no snow. The lights bring an added value. Something different."
The video below makes it look like a lot of fun.
Get Your Tickets for Glow Snow Tubing
Tickets are $14, but availability is limited. Tickets must be purchased online. The facility is open for tubing Thursdays through Sundays through the last weekend of February. No personal tubes can be used, and walking up to the top of the hill is required, so plan for a good workout, as indicated on the website.
Michigan's 299 Snowplows Get the Cutest Names Ever
The Michigan Department of Transportation has revealed the winning names assigned to each of its snowplows throughout the state.
Here they are, sorted by region.
Look Inside Frankenmuth's Bavarian Inn's Rentable Estate
Welcome, or should we say Wiklum, to ResidenZ at Bavarian Inn in Frankenmuth. Although the Bavarian Inn Lodge has been a popular spot for years to stay while visiting "Michigan's Little Bavaria", the latest addition is perfect for large groups and family reunions. The ResidenZ offers 5 bedrooms that sleep up to 14 guests with an additional sofa sleeper for a total count of 16. In addition, there are 5 full bathrooms (two with a jacuzzi tub). The best part is that it's located just across the covered bridge to downtown Frankenmuth right next to Frankenmuth River Place Shops and the Bavarian Inn Lodge. Take a look inside the cutest VRBO rental to his the market in Michigan.
Enjoy a Pure Michigan Vacation on This Houseboat AIrBnb
Everyone knows there's nothing quite like summertime in Michigan. From the dunes to the lakes, and everything else in-between, Michigan has it all. If you are looking to change up your usual summer stay away, why not try a little houseboat life? Known as the "Floathaus of Saugatuck", this Airbnb is an actual houseboat on the water near Saugatuck on the west side of the state. Located in the Tower Marina, the house has 2 bedrooms and 1 bathroom to sleep 4 comfortably. Guests will also enjoy a waterfront pool and park, kayaks, and be able to grill out on those amazing summer nights. The houseboat won't be able to set sea but trust us when we say, you will love every minute while staying docked. Take a look inside!