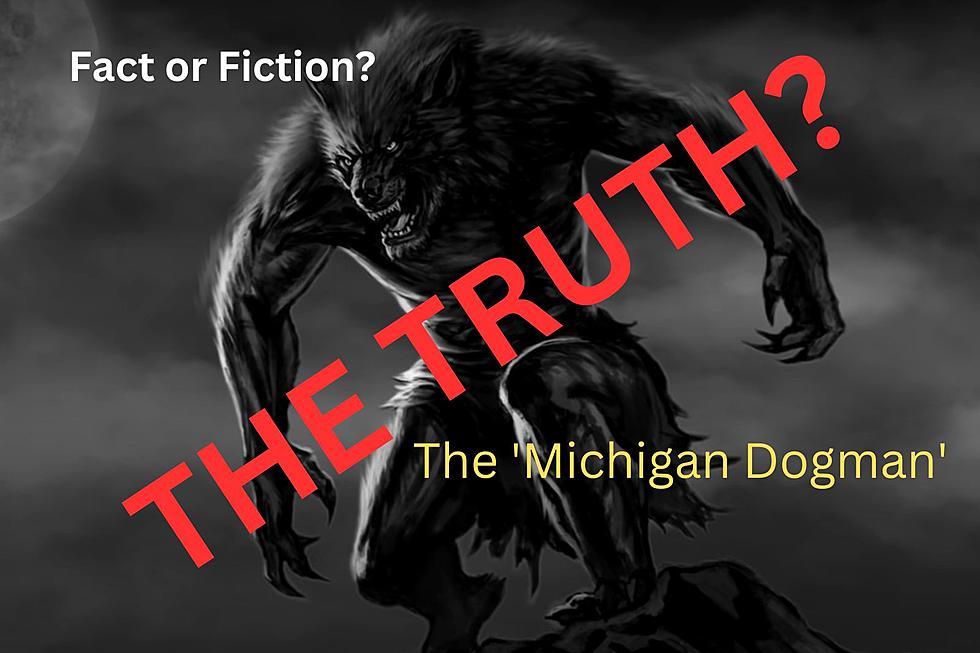 Is the Dogman of Michigan a DJ from Traverse City?
Bedtime Stories via YouTube / Canva
Who or what is the Michigan Dogman? Some say it's creature that roams the remote forests of Michigan stalking anyone who mistakenly wanders into their hunting grounds. This Mitten State cryptid was supposedly first sighted in 1887 by 11 loggers in Wexford County, who chased what they thought was a playful dog into a hollow log. One of the loggers decided to grab a stick and poke the animal in the log.
Can we just take a moment and appreciate the fact that this myth started with 11 lumberjacks chasing a creature into a log and the best solution they could come up with to get it was: "Poke it with a stick".
A Legend Stands
Back to the loggers poking a dog with a stick. The 'dog', as one might expect, doesn't react kindly to the jabbed by a tree limb. It let out an unearthly howl like scream, emerged from the log and stood on it's hind legs. Legend says the Michigan Dogman towered over the men, measuring over 7 foot tall. The beast had the head of a wolf and the torso of a man.
It may be at this point that you think to yourself: Isn't a Michigan Dogman basically a Werewolf that lives in Michigan? Um, pretty much. So anyway....
The Sightings in the 1900s
Fast forward to 1937 and a man was casting a line into the Muskegon River when he was attacked by a pack of dogs. With no sticks handy this man opted to fire a shotgun into the air to scare the mongrels away. All but one ran away according to lore. The lone dog was unphased by the gunshot, in fact it was so irritated that it stood up on its back legs and glared down at the fisherman.
Sightings continued and even increased through the 50s and 60s, with Dogman sightings in Allegan, Big Rapids and Manistee County. Some even say that these giant canines appear in a ten year cycle and only on years that end in a 7. For an animal that hasn't figured out how to build a house, they seem to have a firm grasp on the rotation of the sun. It could be a lunar cycle, which lends to the Werewolf Living in Michigan theory versus this being a different subspecies who prefers to be called Michigan Dogman.
A Nearly Deadly Encounter in 2017
In 2022 on the 'What Lurks Beneath' YouTube channel, a truck driver named Joe Barger talked about his run with the Great Lakes cryptid. He claims that in 2017 he was hauling a load of paper through the Manistee National Forest when he needed to pull over to make a repair to the trucks air. Though it took less than five minutes, he felt uneasy and heard a screech that sent chills through his body. Remembering he was in bear country, Joe got back in the cab of the truck and began to pull away.
It was then went to check his side mirrors, left first, all clear. Then he looked to the right and the window was dark. It was late, but nowhere near time for it to be pitch black. He then realized that in the sea of black were two eyes staring at him through his open window:
There was a wolf head the size of my window and my windows were down," Barger said in the video. "He was trotting along next to me and I was about 20-25 mph at that point. And he was stooping down on two legs looking down inside of my cabin. I'm at nine feet tall in my seat. His hands were coming up scratching my window sill. On my door handle I could hear his claws.
What do you do when faced with a creature that would have to be standing over 9 foot tall to look into the window of your semi? Joe shot it. Twice. Point blank in the face.
After the adrenaline wore off he found a spot to turn around about a mile away. He wanted to be sure he killed it and that he wasn't crazy. Upon coming to the sight, he found a car and a couple on the side of the road looking into the woods on the same side Barger would have expected the creature to fall.
No creature. No Dogman. Just a couple that claimed they pulled over at the sight of two bears fighting. Joe Barger thinks it was another Dogman coming to the aid of or retrieving the body of another.
The Truth About the Michigan Dogman
Could it be that all the fantastical tales of the Michigan Dogman, the sightings after 1987 and all lore before then were simply all made up by a DJ in Traverse City? If Steve Cook, a 30 plus year Michigan broadcaster, is to be trusted than yes. Yes Cook claims that it the entire tall tale was plucked from his imagination for an April Fools Day prank.
Cook wrote the song, The Legend of Dogman, that recaps the 1887 origin and goes on to describe several more encounters with the beast. He recounted the day in a 2008 interview with MyNorth.com:
We were short on ideas that year. It was getting late in the season, and the morning man [Jack O'Malley] said, "We really need something." I've always been a collector of folklore stories; I've always loved Big Foot, Loch Ness … So I decided it was time to create a creature that was unique to Northern Michigan.
Cook went on to say that after a bit, callers to the station started claiming "My uncle has seen one of those things" or "I've seen one of those things".
At first I thought it was just kind of funny. I never really believed in all of these oddity creatures; I thought they were figments of people's imagination. But now I don't know. My quotable line is: Enough credible people have told me incredible stories. Maybe there is something going on out there and we just happened to hit the right note.
Joe Barger and many other Michiganders swear that the Michigan Dogman exists and they have seen them with their own eyes. Bear? Deer? Bigfoot? Time will tell. If you do see it, please get a clear picture or video, cryptid videos are always blurry for some reason...
MI Myths Even Locals Believe
Every state has its own fair share of urban legends, here's some here in Michigan that even the people who live in these areas believe to be true.
These 22 Michigan Senior Citizens Are Escaped Convicts
According to the Michigan Department of Corrections, there are precisely 22 Michigan senior citizens
listed
as most wanted escapees. Take a look through the list and contact the police if you have any information.