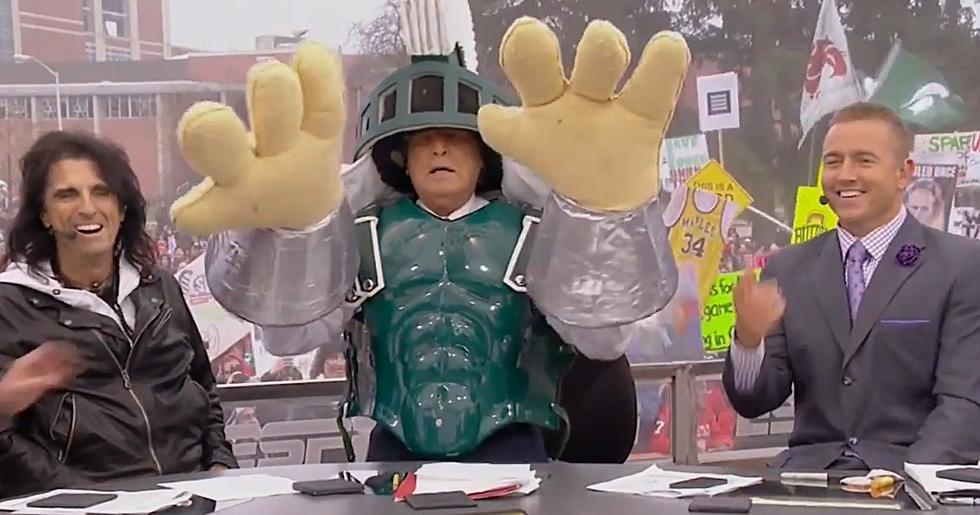 How To Ensure You Make it Onto TV in East Lansing This Weekend
Olajapo Dorevatin via YouTube
Well, we're here friends, it's the biggest weekend for college football in the entire state of Michigan. This year, though, the air in East Lansing is absolutely electric as this is probably the biggest rivalry game in the entire Big Ten Conference, maybe even college football as a whole.

Are You "Go Blue" or "Go Green"?
This year, both the University of Michigan and Michigan State University football teams will be heading into their annual faceoff for the coveted Paul Bunyan Trophy undefeated.
Only one team can emerge victorious, which makes this already such a HUGE game and now to be made even bigger with both ESPN College Gameday AND FOX's Big Noon Kickoff showing up to cover the pregame festivities.
Here's How You Can End Up on TV Too...
Both networks will be setting up at Michigan State University, which means there are PLENTY of chances for you to end up on TV if that's something you are really hoping for this weekend.
However, we've got some tips that may help give you that extra boost of attention to guarantee your 15 minutes of fame.
Let's break it down into eight simple steps:
1. Get There EARLY: This one should be obvious, but hey, some people may show up thinking they can just squeeze in somewhere but nay, nay. According to the Courier Journal, you should get there as early as you possibly can, some people even start "camping out" at 4 a.m. the day of the show. You can't camp out all night but get there as soon as you can to ensure you get the best spot you can...especially if you want to be right in front.
2. You'll Want to be in "The Pit": Of course, this is where all the action is. This is where you can get caught by the cameras when the network is going in or out of commercial breaks and also could possibly be seen behind the hosts/analysts.
3. DO NOT LEAVE: Once you find your spot, you probably should not leave. Not only would trying to get to the bathroom be a nightmare of a line but fighting your way through the crowd to get out would be worse. Also, you're almost guaranteed to not get your spot back.
4. BRING YOUR BEST SIGN: When it comes to the signs, you know the best ones get the most shine! Some good, clean savagery always goes a long way but, of course, so does utilizing memes. Definitely make sure it is bright, readable and most importantly, funny.
5. Wear Something Eye-Catching: Your outfit needs to be as easy to spot as your sign and the more ridiculous, the more obvious, the more strange, the more anything the better. They'll always show someone being extra before someone being just average.
6. It's a Marathon, Not a Sprint: Just remember, if you choose to go to either live pregame show, it's a noon game this weekend. It's going to be busy, it's going to be early and it's going to be a long day...pace yourself. You won't get on TV for getting kicked out for being drunk and disorderly because you went too hard too early.
7. If You Can't Make One Show, There's Always The Other: If you arrive and it is busier at one pregame show's spot than the other or you think your chances would be better at the other, go for it. We're sure with both ESPN and FOX being there, you've got a 50/50 shot, you just have to be there.
8. MOST IMPORTANTLY, HAVE FUN: They're not going to put anyone on TV who looks bored. Just make sure to have fun, that's what this really is all about right? I mean, unless you are part of either the UofM or MSU football team, there's nothing for you to lose here!
CLICK HERE to see a map to help guide you through the day!
30 famous people you might not know were college athletes
Stacker
dug deep to find 30 celebrities who were previously college athletes. There are musicians, politicians, actors, writers, and reality TV stars. For some, an athletic career was a real, promising possibility that ultimately faded away due to injury or an alternate calling. Others scrapped their way onto a team and simply played for fun and the love of the sport. Read on to find out if your favorite actor, singer, or politician once sported a university jersey.