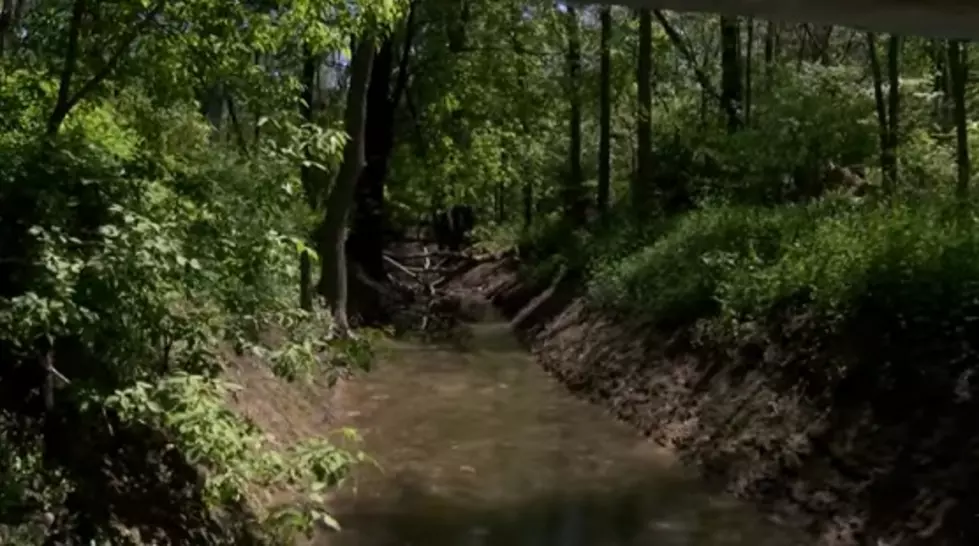 Remains of Michigan's Old 1837 Clinton-Kalamazoo Canal
Screenshot courtesy of Bath City Beat, youtube
Are you familiar with the Clinton-Kalamazoo Canal? It's a project that began in 1838, and quit in 1843, with some of the remains still easy to find. In 1837 – the year Michigan gained statehood – Governor Stevens T. Mason got the idea to help the economy by developing railroads and canals throughout the state. The railroads obviously were developed but the canal idea suffered.
The Clinton-Kalamazoo Canal was an ambitious project that was intended to join the Clinton River at Mt. Clemens to the Kalamazoo River on the western part of the state. The proposed waterway stretched all the way across the state: beginning at Mt. Clemens thru Rochester, Pontiac, Howell, across the Grand River south of Lansing, thru Hastings and emptying out at the now-buried ghost town of Singapore on Lake Michigan. The only section that got completely finished was between Rochester and Mt. Clemens, but nowadays you can still find remnants of the canal along the original path.
Best places to see these old canal remains are on Canal Road in Clinton Township, River Bends Park in Shelby Township, and an old aqueduct near Yates Cider Mill in Rochester Hills.
The whole point of the canal was to save ship time – instead of going all the way around Michigan, thru the Straits of Mackinac and all the way back down Lake Michigan, a cut-thru route across the state was the solution, mimicking the Erie Canal in New York.
People seemed to favor the idea of canals over railroads, as trains would scare cattle and occasionally be responsible for fire outbreaks. A bill authorized three railroads and two – eventually three – canals. It's been said that the town of Vermontville was founded intentionally along (what was to be) the canal route.
As the canal was being built with pick & shovel, Michigan got hit with the nation's economic woes. Governor Mason was not being looked upon in a good light, as he was getting blame for the bad economy seeping into Michigan. That was the beginning of the end of the Clinton-Kalamazoo Canal.
Bank payments were not being paid, and workers weren't getting their wages, which led to boozing it up, numerous fights, and stealing supplies. Disgruntled, many of the workers began destroying and ripping up parts of the canal they had constructed.
Work on the canal came to a halt in 1843 at what is now Bloomer State Park. They had only completed 16 of the proposed 216 miles.
Take a look at the photos below of old canal remains and watch videos to get more info!
Enter your number to get our free mobile app
CLINTON-KALAMAZOO CANAL GALLERY
50 of Michigan's "Must-Drive" Roads
Gas up the car, grab those road munchies and a roadtrip partner that you can trust, and head out on some of Michigan's most unique roads and routes. Make sure you take lots of photos and video!
Weird Sculptures Spotted From Michigan Roads
19 Things Michiganders Hate About Michigan