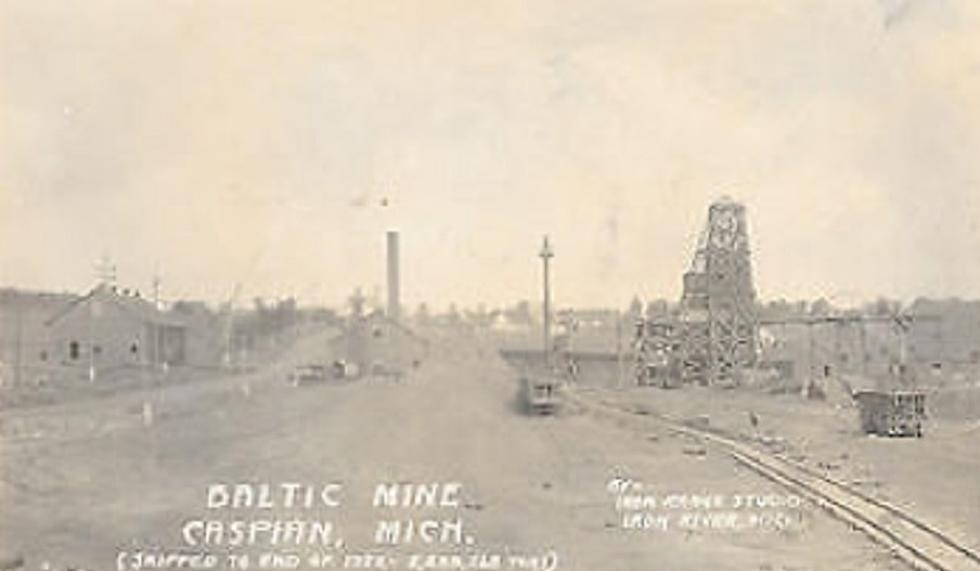 A Tale of Two Michigan Cities Named Caspian (and the Old Caspian Mine)
available @ worthpoint.com
The history of Caspian is too convoluted and confusing to try and explain. For now, in  a nutshell version taken from Michigan Place Names, it was platted under a different name, a new village popped up named Caspian, the post office from the first town was moved to Caspian, then a place called New Caspian was platted, the old post office re-relocated there, and the name was changed to just plain 'Caspian', which also became known as 'Newtown' and 'Spring Valley'.
Maybe this will make it sound simpler: according to Caspiancity.org, "Two plats of 40 acre tracts.....were registered, one in 1908 and a second (in) 1909. The first plat was variously referred to as Palatka, Spring Valley, or Old Caspian, and the second plat was known as New Caspian; however, by 1913, the entire settlement took the name of Caspian, after the most productive mine in the area."
Does that make it less puzzling?
Six mines popped up in Caspian from 1900 to 1922 – each one bringing more miners and their families. Realizing the need for homes for these families, the mining companies built homes for them beginning in 1904.
With homes, residents, employees, and families, came the inevitable business district. By 1908 Caspian had two grocers, two hotels, livery stable, post office, saloon, and a shoemaker. Things were going great and the population had zoomed to 1,860 by 1917. Caspian was made up of mostly Italians, with Croatians, Finns, and Poles making it a melting pot of ethnicity. These groups all banded together and made Caspian a strong community.
Once the mining boom declined, Caspian did too, but it wasn't down and out. It still survives and has kept many of its old original homes and buildings. There is much more history to Caspian that you can read here... but only after you've taken a look at some vintage (and recent) photos in the gallery below!
The Mining Town of Caspian, Upper Peninsula
MORE OLD MICHIGAN MINING TOWNS:
Abandoned Grand Haven Mine
The Ghost Town of Central Mine
Clark Mine, Copper Harbor