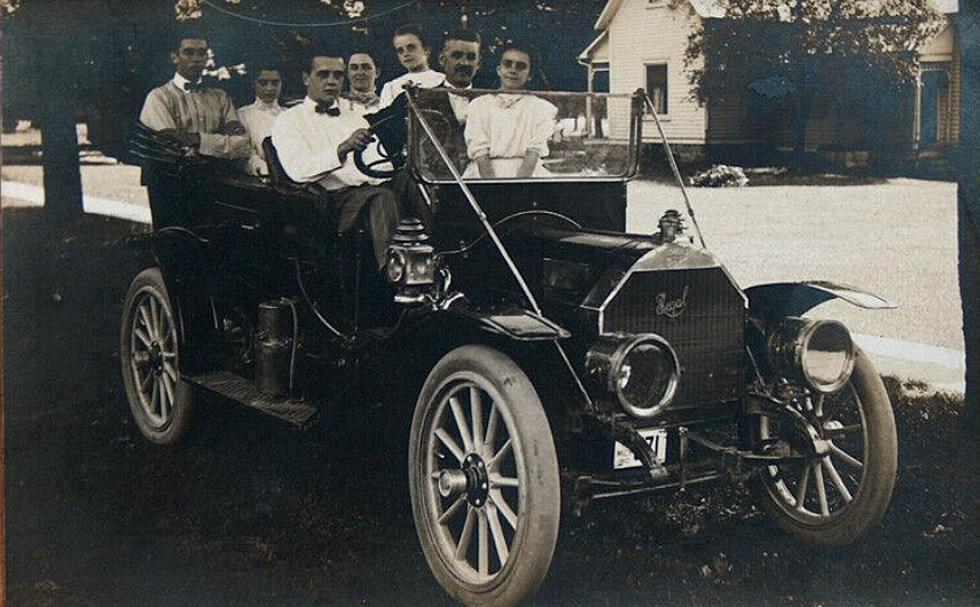 Once Home to Classic Cars Featured in Motion Pictures: Burr Oak, Michigan
available @ worthpoint.com
In 1831, the first white settlers arrived in the area: family man Sam Haslet and bachelor George Miller. In 1833, after hearing how rich and fertile the land was, more settlers began arriving.
Burr Oak in St. Joseph County began life being plural as 'Burr Oaks' when a post office opened in 1837.
According to Michigan Place Names, in 1850, chief landowner William Lock gave the railroad some of his land, if they promised to call the new depot "Lock's Station". It was, and it opened in 1852. In 1857, the community was re-named 'Burr Oak' (without the "s"), getting its name from all the burr oaks found in the area.
FAST FACTS:
1837: The first highway was ordered to be constructed
1838: Burr Oak Township was formed
1838: First cemetery
1851: Julius Thompson builds the first saloon
1851: First doctor, Nathan Mitchell, moves in
1852: First blacksmith, James Tower
1853: The first mill is constructed. It burns down that same year
1854: First lawyer, Hiram Tyler
1855: First brick house built by H.S. Williams
1858: Baptists build the first church
1859: Grist mill erected by Caleb Crane
1859: Incorporated as a village
1865: Burr Oak's first store unexpectedly burned down
1876: Out of 507 kids, 447 of them attended class in seven schools
1877: By now, the village was well-stocked with many shops and stores
In the 1870s, Burr Oak was thriving with 234 operating farms, flour mill, foundry, saw mill, and stave mill. The town population had zoomed to 1,949.
As of 2021, the population was 768.
Burr Oak was once the home of the R-11 Classic Car Museum that featured over 350 vintage vehicles, some of which were featured in major motion pictures. Unfortunately, the museum was forced to close down after bankruptcy was filed in 2008. Sadly, the cars were auctioned off.....but gladly to the collectors who could afford them.
Vintage Photos of Burr Oak: 1900-1950s
MORE VINTAGE MICHIGAN:
Vintage Idlewild
Vintage Sherman, Michigan
Vintage Photos of Pullman