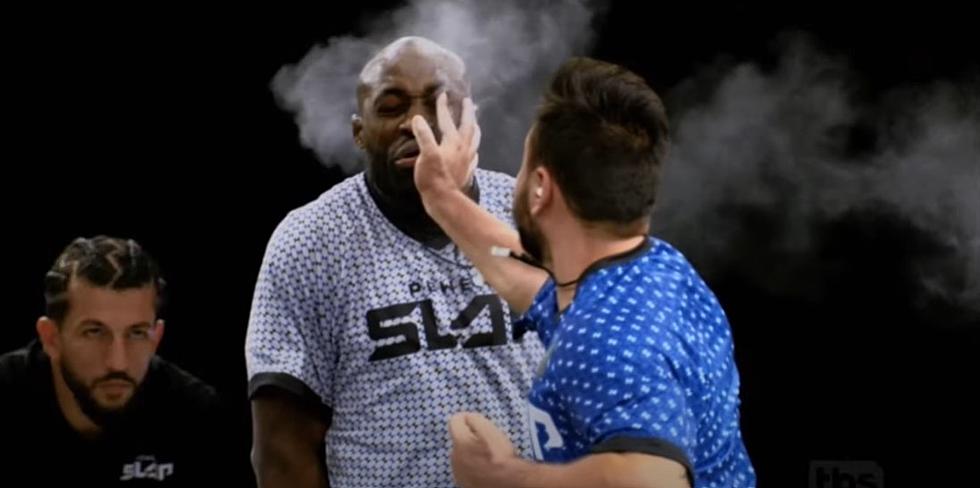 Battle Creek's 'One Punch' Rese Archer Competing in 1st Ever Power Slap Competition Finale
Evol Ernie via Youtube
You might have plans Saturday night, but I encourage you to cancel them unless you're planning on watching Power Slap 1. Power Slap is the brainchild of Dana White.  Professional. Slap. Fighting.
Power Slap 1 will feature 13 slapping contests, including heavyweight, light-heavyweight, middleweight and welterweight championship fights, plus 9 preliminary undercard fights to determine seeding for what one can only hope is Power Slap 2.
If you haven't watched TBS's "Power Slap: Road to the Finals" reality show, you need to. Before you say no, please, just watch 10 minutes. It is fascinating. Power Slaps YouTube Channel has millions and millions of views. Why?
Two grown men stand across from one another with a table between them. There is a coin flip and the winner gets to pick whether he will hit or be hit first. You read that correctly, these men decide whether or not they want to hit or be hit first.
Battle Creek Native "One Punch" Rese Archer, who now calls Atlanta, GA home, will be fighting fellow middleweight contender Travis Argon in a prelim matchup during Saturday's, March 11th's Power Slap 1, airing exclusively on the new streaming service Rumble.
Archer credits his youth in Battle Creek and time spent in a Calhoun juvenile home as his reason for "trying to rewrite the narrative." Archer told the Battle Creek Enquirer in a January interview, "Beginning of my life wasn't great."

If Archer's name rings a bell, it may be because he had the famous "flinching" incident with Nate Diaz at the Jake Paul v. Tyron Woodley II event in December of 2021. Dana White actually raised Archer's hackles by posting a video of the "flinch" with laughing sound effects on his Instagram.
Sportkeeda transcribed Rese's video reply, who was then known as Carrese "One Punch" Archer, directly to White and Diaz
Dana White, I seen you made a post and you laughed and you thought it was funny. I bet you won't think it's funny you sign me for one fight and I knock Nate Diaz the f**k out in the first round, guaranteed no cap.
Power Slap owner Dana White, who is no stranger to hype, obviously saw something in Archer because he invited him to slap his way into the "Power Slap: Road To The Finals" house. This is White's genius.
Not only is he going to have two grown men stand across from one another—one with their hands behind their back grasping a shortened pool noodle—waiting for one of them to open-hand smack the other across the face. He also has them live together!
Rese and fellow Power Slap Competitor Azael Rodriguez had a fistfight in the house, featured in Power Slap: Road to the Finals episode 5, which made their eventual head-to-head even more interesting. Rese lost the fight to Rodriguez and now has a record of 1 and 1 heading into Saturday's event.
Do we need a competition featuring adults slapping one another? Nope, but it is more entertaining than it has any right to be. Will you be watching? Have you watched? I honestly can't wait to see it.
Sports Figures That People Love to Hate
Sports would be boring if you loved everyone. There always has to be a villain, and we've put together a list of prominent sports figures that a lot of people can't stand.