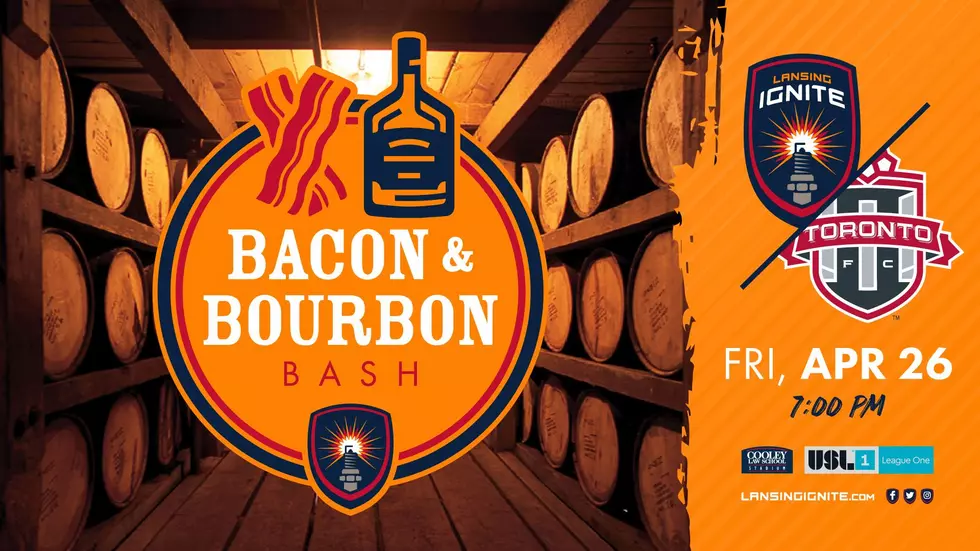 Bacon, Bourbon, & Soccer – Lansing Ignite Friday Night
Credit: Lansing Ignite
Friday night how about some soccer, bacon, and bourbon?
Downtown Lansing will be IGNITED this Friday night as your Lansing Ignite Football Club takes on Toronto. The Ignite btw are fresh off two home victories. Their inaugural match with a victory over Richmond and then last week winning the first battle for The Capital Cup vs Michigan State University.
This Friday, they will try to stretch their home winning streak to three as they take on Toronto FC. And just to make it interesting, they are adding Bacon & Burbon to the mix.
Lansing Ignite FC is hosting a Bacon & Bourbon Bash for Friday's match against Toronto FC II (7 p.m. ET, April 26), and you're invited to the event at Cooley Law School Stadium. The concourse will have finger-licking pairings starting one hour before the match (6 p.m. ET).
Fans who secure their tickets to the USL League One match can then purchase tickets for the Bacon & Bourbon Bash on the concourse of the stadium.
One bacon and bourbon pairing can be purchased for $5, while a $20 ticket will give fans five pairings (one paring comes with one bacon-infused dish and one bourbon tasting).(Lansing Ignite)
BACON & BOURBON BASH FOOD MENU:
DBLT
Grilled duck bacon, lettuce, tomato, toasted pretzel bun, baby arugula, yellow teardrop tomatoes, avocado aioli
LOCAL HOLE
Local Groovy Donuts maple-glazed donut hole studded with local bacon
EAST MEET SOUTH
Stuffed bacon-wrapped jalapeno, French-herb cream cheese, bourbon macerated cherries
PB&BBJ
Creamy peanut butter, mini brioche, bourbon bacon jam
WHISKEY CHICKS
Kentucky fried chicken & waffle, pork belly, blue cheese butter, local maple syrup