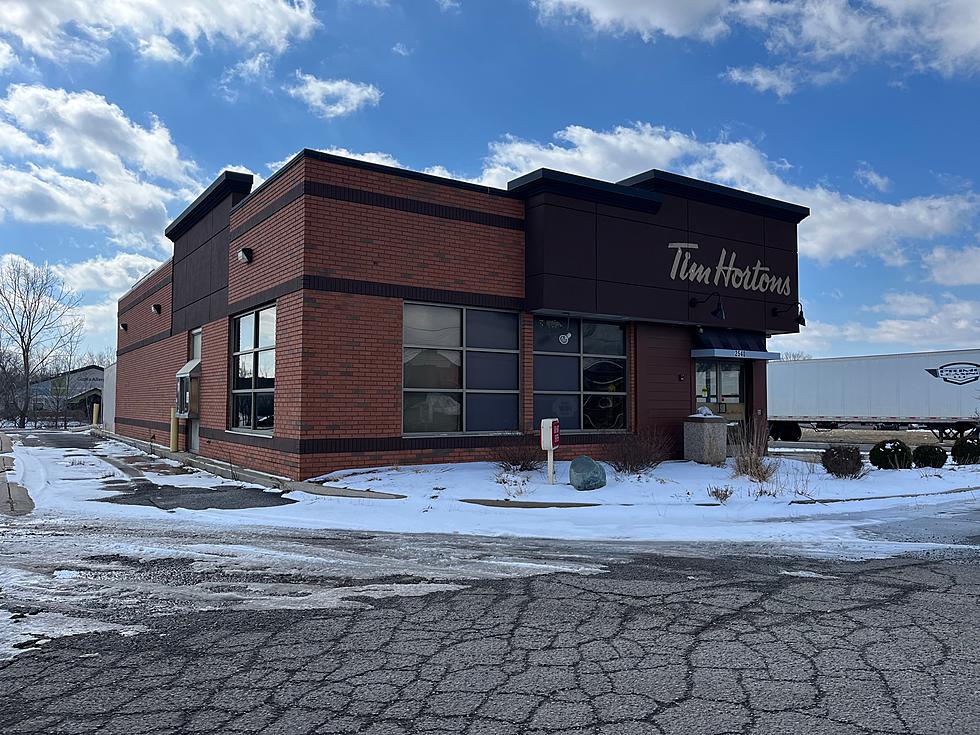 A Coffee Chain Has Left This Lansing Spot, What Would You Like to See Instead?
Courtesy Kristen Matthews
Whenever a business closes its doors for the last time, it's always sad. That's a whole staff of people who are out of a job and one less business for the area to patronize.
Tragically, the last two years have been especially had on businesses, particularly restaurants. In recent months, Lansing and the surrounding area have seen a multitude of places close;
Leo's Outpost, DeLuca's, Spartan Hall of Fame Cafe, American Bistro, Outback Steakhouse, Mr. Taco, Wings Over East Lansing, and more.
Tim Horton's on Jolly Road in Lansing is Closed
Included in those closures over the last few months is the Tim Horton's location on Jolly Road off of Dunckel in Lansing. This place has been closed for a little while now. And sadly, that corner has seen its share of loss in business in recent times.

The Burger King there closed. However, a Leo's Coney Island is planned for that spot. A Conrad's Wraps was planned for inside the plaza next to Biggby, but those plans were nixed.
Tim Horton's in Michigan
This particular Tim Horton's closure wasn't part of some mass set of closings for the chain, it seems it was just this particular location. There are still some locations throughout the greater Lansing area, not to mention plenty throughout Michigan as a whole.
Lansing's South Side @ 2774 Eaton Rapids Rd
Lansing's West Side @ 728 S Waverly Rd
12962 Old U.S. 27 in Dewitt
1715 W Michigan Ave in Jackson
What Restaurant Should Open in Lansing Now?
Since this old Tim Horton's location is up for grabs, what's something you'd like to see take its place?
The delicious Lansing Foodies Facebook group has mentioned more than once that they'd like to see a Waffle House come to Lansing...this could be the perfect opportunity. The closest location to Michigan is in Toledo, Ohio.
We'd love to see a local business blossom in this space. It could be perfect for a small ice cream shop or maybe a cute boutique. Whatever happens, we'd love to hear what you think should take over this space. Let us know by sending us a message with the station app or sending us a message on Facebook.
While we ponder the opportunities of this old Tim Horton's space, check out some of the yummiest chains we'd like to see come to Lansing.
These 15 Chain Restaurants are So Yummy that We Must Have Them in Lansing
Don't misunderstand; Lansing's food scene is absolutely incredible! It's got a variety of restaurants serving up a slew of delicious cuisines. But we think there's always room for improvement. Here are 15 chain restaurants that are so good that we think they should be added to Lansing's lineup, pronto!
A Look Back at the Lansing Restaurants That We Lost in 2021
Lansing is home to tons of great food, but like the sign of the times, we did lose a few restaurants in the year that was 2021. Take a look down memory lane with us as we explore some now closed restaurants in Lansing.
Restaurants Lansing-Area Residents Want in Okemos
When the Okemos Outback Steakhouse location at 4880 Marsh Rd. suddenly closed its doors, we started talking about what we would like to see go in to replace it. Suggestions ranged from fast-food to other steakhouse-style options to non-food businesses entirely. See what Lansing-area residents want in Okemos.