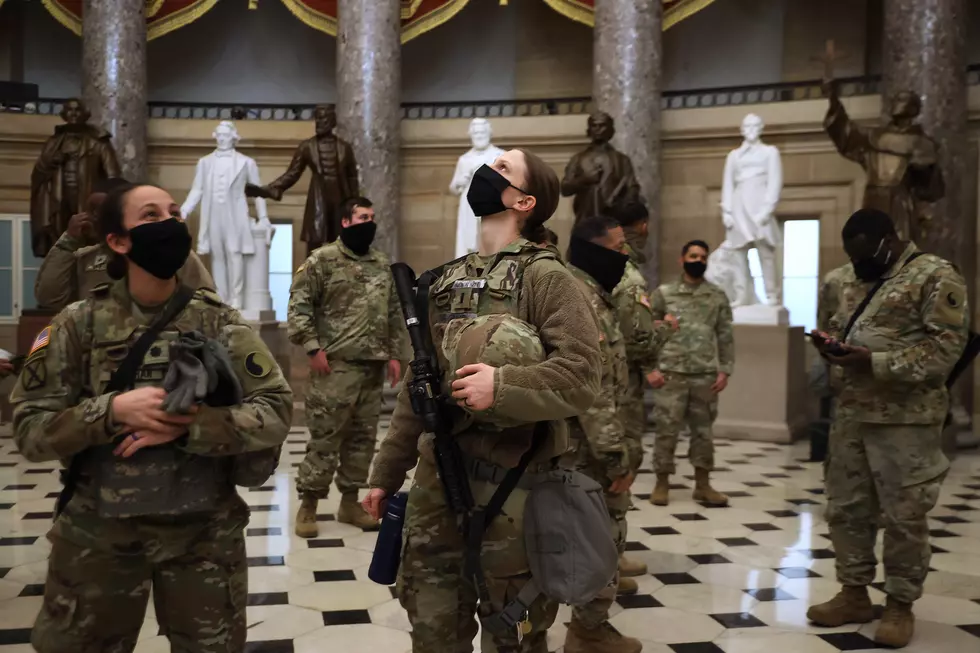 Washington DC Locks Down, National Guard Presence At 21,000
Getty Images
Washington DC is on high alert. Our nation's capitol is the scene of heavy military presence to make sure Americans have a peaceful transfer of power from the Trump Administration to the incoming Biden/Harris Administration.
Threats of violence at the inauguration and threats against all of our nation's capitols is very real.  Along with Capitol Police and  the Secret Service some 21,000 National Guard troops are protecting Washington DC from having a repeat of last weeks assault on our nation's capitol building.
Due to security concerns, President-elect Joe Biden's inauguration rehearsal scheduled originally for Sunday has been postponed due to security threats. The rehearsal has been rescheduled for Monday. Biden's team has even brought on a former Homeland Security advisor to help serve as a temporary advisor on security around the inauguration. The Associated Press reports that,
The FBI has warned that armed protests by violent Trump supporters were being planned in all 50 state capitals as well as in Washington for the days leading up to the inauguration of President-elect Joe Biden.
President-elect Biden received a briefing earlier in the week from the FBI, the Secret Service and national security officials about the threats to the inauguration and also threats against Capitols in all 50 states.
Since last week's attack on the Capitol and Congress by a mob of domestic terrorists and violent extremists, our country is facing a new threat of violence from within. This is a challenge that President-elect Biden and his staff take incredibly seriously.
The Associated Press has more on this story.
PHOTOS: Scene at U.S. Capitol shows chaos and violence