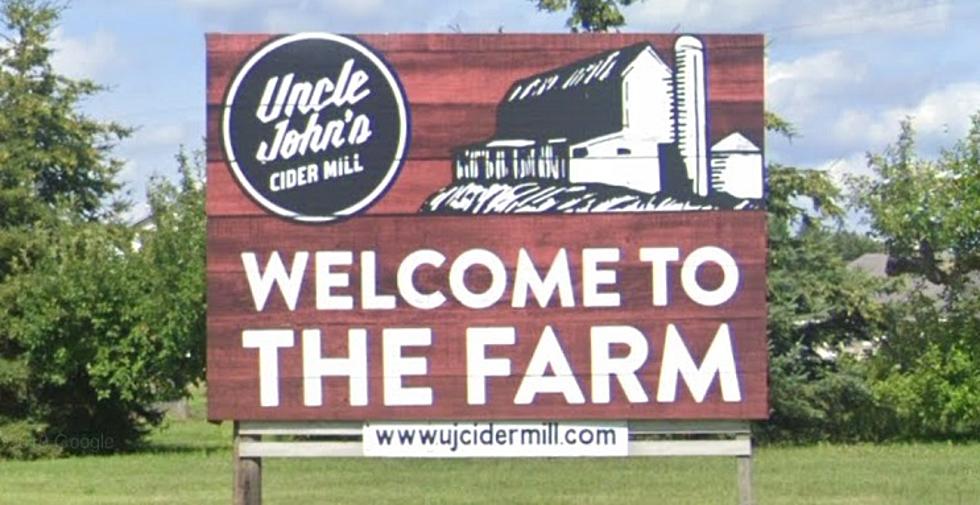 50+ Years of Uncle John's Cider Mill: St. Johns, Michigan
Google Maps
Just one of the many things you can find by traveling up and down US127 is Uncle John's Cider Mill.
You've seen it.
You've stopped.
You've enjoyed.
Right?
For the few of you who said "nope" here are some details...
The history of Uncle John's says it's being run by the 5th generation of the Beck family. "Uncle" John Beck bought the family farm in the 1970s, operating as a roadside fruit & vegetable business. But that wasn't enough to keep up with the times. Soon they added homemade apple cider and doughnuts to their roadside stop, and soon, word-of-mouth kept bringing more and more customers.

Why was it called "Uncle" John's? According to Uncle John's web site, after it was decided to turn the barn into a cider mill, family members showed up to help with the conversion. Soon, the most common phrase heard around the farm was "Uncle John, whaddaya want me to do next"? So that was what they finalized the name as....Uncle John's Cider Mill.
With more success came more homemade treats: bread, honey, pie, preserves, and syrup. Plus train rides, a pumpkin patch, and events all year long. Entertainers were soon booked to perform for the crowds, and other additions included a gift shop, snack barn, and winery.
There seems to be no sign of slowing down – the business or Uncle John himself. Make sure you put this place on your roadtrip itinerary this year...grab some cider and road munchies and you'll be good to go.
UNCLE JOHN'S CIDER MILL GALLERY
MORE MICHIGAN MILLS:
Michigan Cider Mills
The Old Mills of Michigan
The Windmills of Michigan
MORE TO EXPLORE: Michigan Restaurants Featured On The Food Network