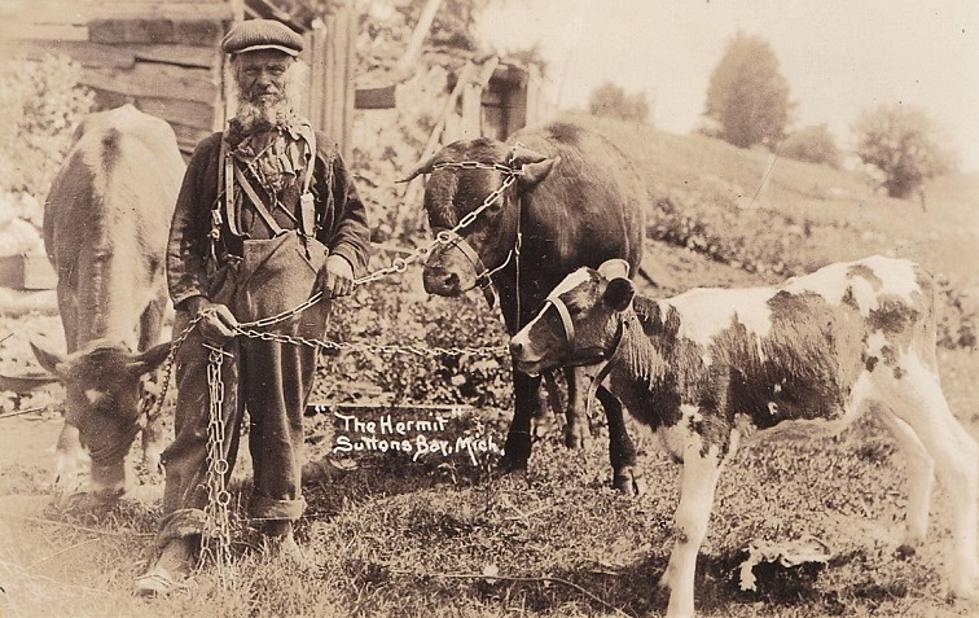 The Old Hermit of Suttons Bay, 1849-1931
available @ worthpoint.com
Another rarely-mentioned Michigan character is the Hermit of Suttons Bay.
His name was Roch Tybushewsky, born in Poland in 1846. He came to America in 1874 and ended up in Michigan doing some farming. He lived in Detroit from 1878-1884. From there, he set up a home in Duncan City until 1909 (Duncan City does not exist anymore; all remnants of it have been destroyed, the land has been re-developed, and is now a part of Cheboygan).
According to the book, Traverse City State Hospital, One of the legends about Roch is that he studied to be a priest, but changed his mind to become a school teacher. While teaching classes in Alpena – so says the tale - he accidently killed a student. Heartbroken and guilt-ridden, he moved across the state to Suttons Bay in the Leelanau Peninsula, just off M-22, near the railroad tracks, close to Belanger Pond. To serve some kind of self-imposed penance for the killing, he decided to hermitize himself. He made himself a mud hut, where he lived tending cows and steer.

Roch could read & write, and speak somewhere between eight and thirteen different languages.
Roch became well-known locally, and photographers would visit him and take photos, which were turned into postcards. He remained a hermit until 1920 (some sites say 1919), when he was taken and admitted to the Traverse City asylum, where he remained until he passed away in 1931 at age 84.
The gallery below shows some photos of Roch Tybushewsky, "The Hermit of Suttons Bay"…and for good measure, I've included a couple of pictures of two more known Michigan hermits from the same era.
The Hermit of Suttons Bay
MORE UNIQUE MICHIGANDERS:
Clem Sohn, the Bat Man/Birdman of Michigan
Ted Abrams
Spikehorn Meyer
The Notorious Conwoman of Menominee
Bill Haley, The Father of Rock 'n Roll