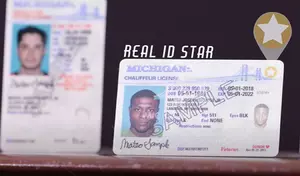 Michigan Drivers Now Have Until 2023 To Update License To REAL ID
Michigan Department of State / Secretary of State via YouTube
If you already have it in preparation for the original October 2021 deadline, great! Otherwise, don't stress, you'll have plenty of time - about two years, actually.
You still CAN do it, you just don't HAVE to for a while...looking at you procrastinators.

What Is REAL ID
According to the Department of Homeland Security (DHS), it is part of the REAL ID Act that was passed in 2005 and "established minimum security standards for state-issued driver's licenses and identification cards..." You will eventually need this for things like boarding airplanes and accessing other federally-regulated facilities.
CLICK HERE for other frequently asked questions addressed on the DHS website.
How To Get It
To get a REAL ID-compliant license or ID in Michigan you will need a few documents.
First, you will have to make an appointment at your local Secretary of State.
Then, michigan.gov says you will have to bring documentation including your current Michigan license or ID, and either of the following: your official birth certificate, unexpired U.S. passport, or an approved citizenship or legal presence document.
There also may be other documentation needed depending on situations like name changes, divorces, etc.
Michigan.gov also says you are welcome to apply for REAL ID at any time or just wait until it is time to renew. When you do that, your picture gets taken so make sure you're looking good and there will be the appropriate fees due, though there is no additional fees if you update to REAL ID-compliance if you do this during your normal renewal time.
This video was made before the deadline change but can explain things further for all you visual learners out there:
The Deadline
WILX reports that DHS has decided to move this deadline due to the COVID-19 pandemic and therefore you have until May 3, 2023 to make sure you are REAL ID ready.
DHS Secretary Alejando Mayorkas, in a statement cited by WILX, said the enforcement deadline of this gives stated time as they reopen and licensing operations can carry on to ensure residents can get this done.
So between now and May 2023, make sure you get REAL ID ready. Especially if you'll be needing to renew your license anyways!
MORE: Here's the Michigan Slang Out-of-Staters Need to Know
KEEP READING: Scroll to see what the big headlines were the year you were born
MORE: Things You Shouldn't Say To Michiganders