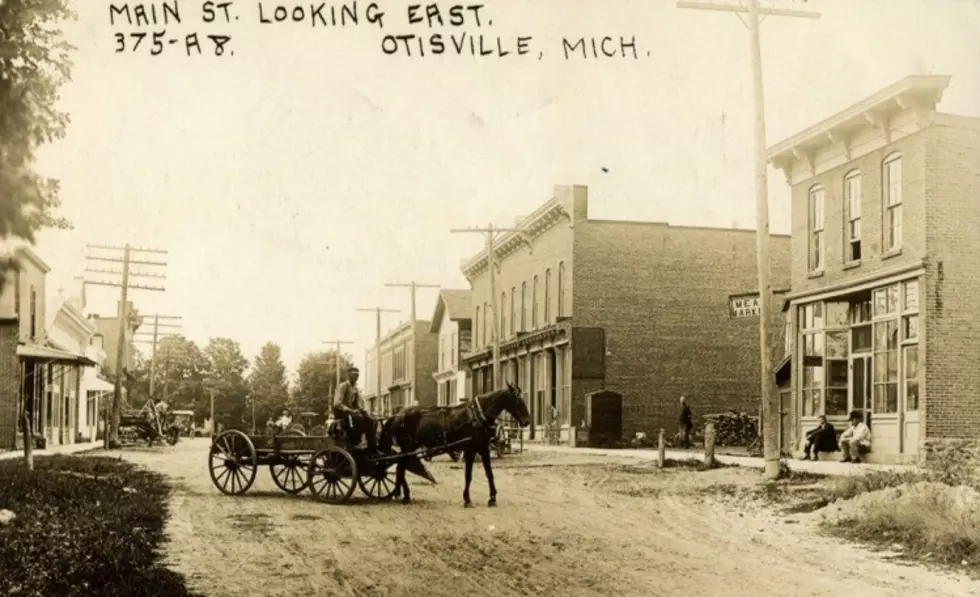 Otisville, Genesee County, Then-and-Now Photos,1873-2000s
available @ worthpoint.com
Otisville is another Michigan small town, located near the knuckle of the Thumb, in Forest Township, Genesee County.
Among the first settlers around 1850 were Amos Biegel, Stephen Biegel, and Matthew McCormick. In 1851, a entrepreneur named John Hayes arrived in town with an entourage and a cache of machinery, intent on building a sawmill and setting up a lumber camp…and so they did (atlases from 1873-1907 show the name "Biegel" spelled as "Begel" and "Begle"…so which is correct?).
So where did the name 'Otisville' come from?

In 1852, the three Otis brothers – with Francis taking the lead – owned 5000 acres of local land, filled with precious pine trees. They bought the lumber company out from John Hayes and began producing their own profitable timber business. However, the town was not named for all three brothers…just Francis.
The town soon had establishments and businesses popping up, and a post office made its debut in 1861.
In 1863, one of the Otis brothers, William, platted the village with T.D. Crocker, bringing more interest, travelers, and trade to the area. A railroad station was inevitable, and one appeared in Otisville in 1874 alongside the Flint River Railroad. The village finally became incorporated in 1877 and the railroad was re-named as part of the Pere Marquette Railroad.
The town sits snugly near McCormick Lake, named after the above-mentioned Matthew McCormick, and Picnic Lake. There are a nice handful of shops & eateries to take advantage of if you drive-thru. There's nothing like experiencing a smalltown café or eatery for the first time…..many times you'll be pleasantly surprised!
Make historic-but-humble Otisville a stop along your Michigan Thumb roadtrip!
OTISVILLE, THEN AND NOW
MORE MICHIGAN STUFF!
The Michigan Ghost Town of Salo
Detroit Wolverines, 1880s
Vintage Photos of Houghton Lake/Prudenville