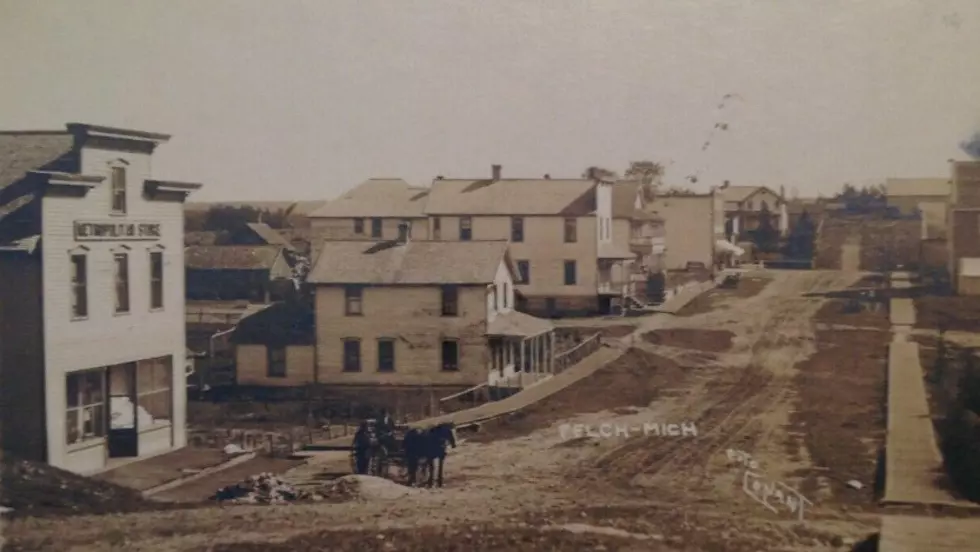 Michigan Main Streets, Part 6: 1900-1940s
available @ worthpoint.com
It doesn't take an Einstein to figure out why just about every city, town, village, hamlet, or community has a Main Street.....it usually turns out to be the very first street in town, or the drive that cuts right thru the downtown area.
Sure, there are 'Front Streets' - even 'Michigan Avenues' - that double as a Main Street...but the term 'main street' invokes a certain image in the brain, more so than a 'front street'.
Main Streets have been immortalized in film, TV and song:
"Mainstreet" by Bob Seger" and other songs that include:
"Main Street Eyes"
"Main Street Mission"
"When You Walk Down Main Street With Me"
"Midtown American Main Street Gang "
"Meet Me Down on Main Street " and many more...

TV shows like:
"Window On Main Street" (Robert Young TV show)
"Main Street"
"Main Street Mysteries"
And movies:
"Main Street To Broadway"
"The Shop On Main Street"
"The King On Main Street"
"Main Street Girl"
"Main Street After Dark" and a slew of others.
Why the fascination with main streets? 'Cuz that's usually where the action happens: hangin' out with buddies, bars, pool halls, mom & pop shops, antique stores, snacks, records, comic books...they're all there on Main Street.
Is the charm or the innocence leaving our main streets ever since the 2000s hit? Fortunately, many of our small towns still retain that 'main street' feel. The gallery below has fifty more Michigan Main Streets, showing how life on our main hubs were from 1900-1940s!
Michigan Main Streets, Part 6
MORE VINTAGE MICHIGAN:
Vintage Paper Boys and Newspaper Offices
Vintage Michigan Lover's Lanes & Couples
Vintage Michigan Boarding Houses