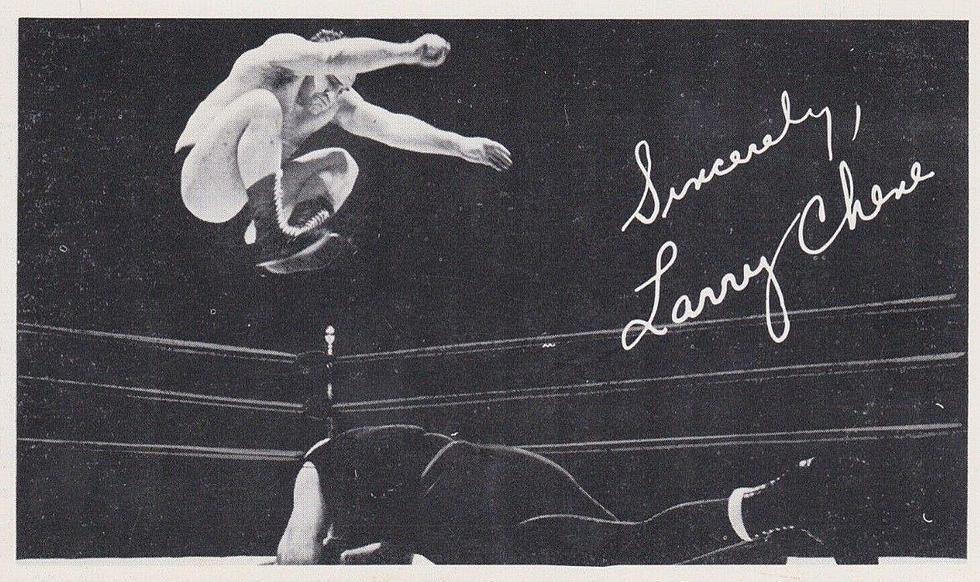 Legendary Wrestler, "Leapin'" Larry Chene: Detroit, Michigan
available@worthpoint.com
My dad and I used to watch "Big Time Wrestling" on TV back in the 60s…can't remember what channel it was on: CKLW Channel 9, WJBK Channel 2, or WILX Channel 10…maybe neither. It was too long of a time to remember.
But what I do remember very well are a handful of the wrestlers: The Sheik, Mr. X, Bobo Brazil, Haystack Calhoun, Dick the Bruiser, Percival Pringle, and my favorite, 'Leapin'' Larry Chene (pronounced "shayne").
Larry was born Arthur Lawrence Beauchene in 1924 in Detroit. He began wrestling in high school, carrying over into his college years. After a gig in the air force, he made his pro wrestling debut in 1950, appearing in Michigan, Canada, Indiana, and Ohio matches.
Beginning in 1954, he left Detroit and began taking matches in Texas, throughout the Pacific Northwest, and into Hawaii. It was during this time he acquired his nickname, "Leapin' Larry Chene."
In 1960, Larry came back to Detroit where his popularity became greater. I remember watching a match between him and Dick the Bruiser, and the sight of Larry sitting on the canvas with blood pouring out of his head is an image I will never forget.
FAST FACTS:
Jan. 1963: IWA United States Heavyweight Championship
May 1963: Loses the title to The Great Mephisto
Nov. 1963: Gets the title back from The Great Mephisto
Aug. 1964: Loses his title for the last time
Oct. 1, 1964: Larry's last match; he lost to Larry Hennig
The day after Larry lost his final match, he was killed when his car hit a telephone pole and flipped over in Illinois. Cops discovered a speeding ticket in his car and it was believed he crashed from speeding and losing control. He was only 40 years old.
Leapin' Larry is buried in Mount Olivet Cemetery in Detroit.
Take a look at the short photo gallery below, then come back and take a look at Larry in action HERE.
Leapin' Larry Chene, Detroit Wrestler
MORE MICHIGANIA:
Inside the Former Home of "The Sheik" - Williamston
The Abandoned Kronk Gym (before demolition), Detroit
The Original Tiger Stadium