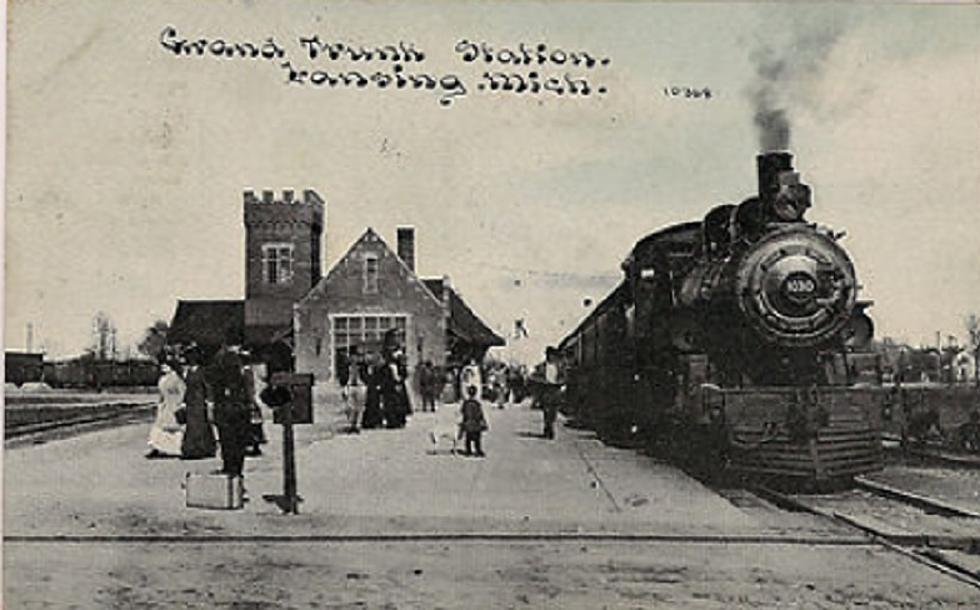 The Grand Trunk Railroad Depot: Lansing, Michigan
available @ worthpoint.com
In 1877 the Grand Trunk Western completed its cross-state line between Lansing and Port Huron. 101 years later, it was listed as a Michigan State Historic Site. Two more years went by and it was added to the National Register of Historic Places.
In 1856 the Detroit & Milwaukee Railroad laid tracks through Lansing. This was followed by two more lines: in 1872 by the Michigan Central Railroad and 1879 by the Chicago and Grand Trunk Railroad. It didn't stop there; a couple of decades go by, and now Lansing had up to six railroad lines coming through the city.
When reorganized in 1900, Chicago & Grand Trunk constructed a slew of new depots throughout Mid-Michigan. Lansing's Grand Trunk station was constructed near the new REO Motor Car Company, who intentionally built the plant next to the railroad.
Construction on the depot was started and finished in 1902. In 1971, the railway line closed the station – the same year the Union Station (later Clara's Restaurant) shut down.
In 1972, it was renovated as a restaurant – the inside was remade, but the outside stayed the same. As reported in a number of articles about the depot, they usually mention the time when Gerald Ford ate here. While he was campaigning in 1976, he and his posse stopped here for a bite to eat.
By the early 2000s, the depot was abandoned. In 2010, the depot was restored by the Lansing Board of Water & Light. The gallery below has a few photos of how the depot looked over 100 years ago, as well as how it looks in the 2020s.
Lansing's Grand Trunk Railroad
MORE MICHIGAN RAILROADIN':
The Michigan Railroad That Was Never Used
Old Jackson County Postal & Railroad Stations
Michigan Railroad Roundhouses, Early 1900s