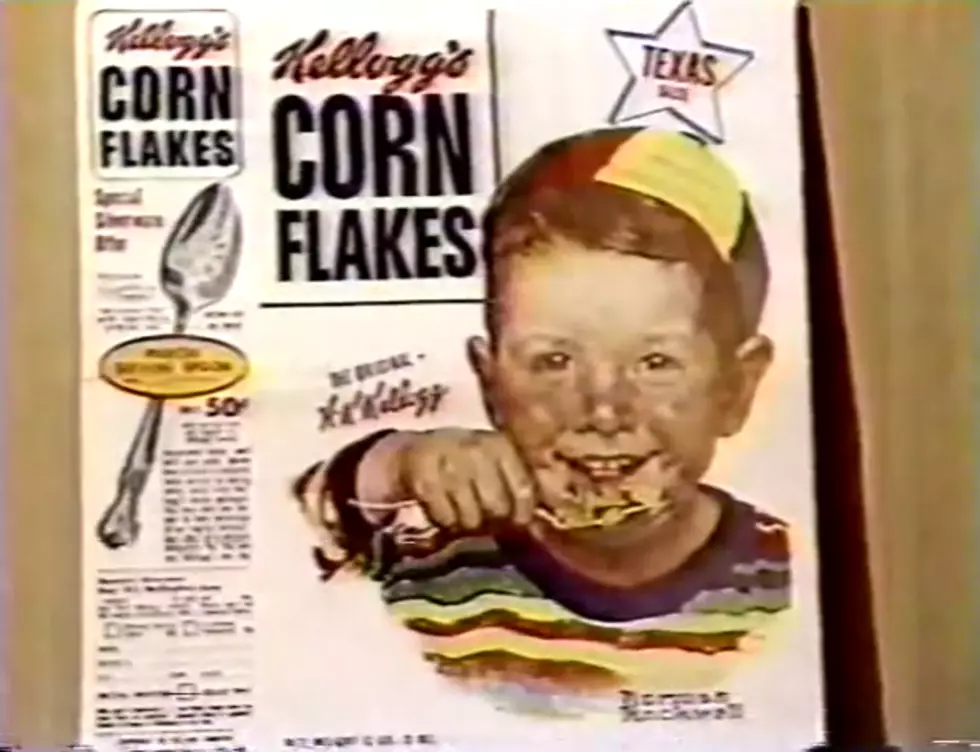 Guess Which Kellogg's Cereal Had These Mascots
Screenshot courtesy of vidiotatious, youtube
W. K. Kellogg was born in April 1860 and was responsible for the Kellogg Company of Battle Creek, which has made numerous cereals and other products for well over 120 years right here in Michigan.
So, I thought we'd try something just for fun....
Can you name the cereals that match the following mascots? The characters below were all featured on different Kellogg's cereal boxes over the decades.
To get the correct answers, just CLICK EACH MASCOT NAME and you will see which cereal they belong to!
APPLE GUY
BIG OTIS
CLIFFY THE CLOWN
CORNELIUS ROOSTER
CRUNCHOSAURUS REX
DIG'EM FROG
KATY THE KANGAROO
MR. BREAKFAST (a/k/a The Wizard of Oats)
NEWTON THE OWL
OJ JOE
PETE THE PRAIRIE PUP
QUICK DRAW McGRAW
SMAXEY THE SEAL
SNAP, CRACKLE, POP
SUNNY THE SUN
TONY THE TIGER
TOUCAN SAM
TUSK THE ELEPHANT
YOGI BEAR
I remember being a kid going on a class field trip to tour the cereal factories in Battle Creek: Kellogg's and Post. Unfortunately, for today's youth - as well as the old-timers - the tours are no more. The smell of the entire factory reeked of corn flakes and I can still remember that smell...and the free stuff! They'd hand out boxes of cereal, snack-packs and other cereal-related items 'n stuff. Does anyone still have any of the cereal tour memorabilia and souvenirs?
Dr. John Harvey Kellogg was the man chiefly responsible for Battle Creek's cereal boom; he was chief medical officer of the Battle Creek Sanitarium in the late 1800's and worked on diets to help his patients. His first cereal creation were flakes made of wheat, used to replace bread. His brother went ahead and began marketing these health flakes as breakfast food and the empire began. It didn't take long for Battle Creek to become the "Cereal Capital of the World."
Sadly, the Kellogg tours ceased in 1987, but was replaced with a wacky, partially-fictionalized version of cereal manufacture in Cereal City USA. That closed up in 2007.
The Battle Creek History Museum is currently working on preserving tons of Battle Creek history, including Kellogg's & Post cereal history. The museum is located at 307 W. Jackson Street, and is a work in progress. Hopefully, someday, there will be an extraordinary exhibit of these two cereal giants, with many items from those old tours we took as schoolkids. Keep an eye on the museum's progress by checking out their website.
And for my parting words, these were Dr. Kellogg's words of wisdom: 
"Eat what the monkey eats.....simple food and not too much of it."
LOOK: 40 Discontinued & Special Edition Kellogg's Cereals
DISCONTINUED POST CEREALS
Cereal City, USA
Enter your number to get our free mobile app