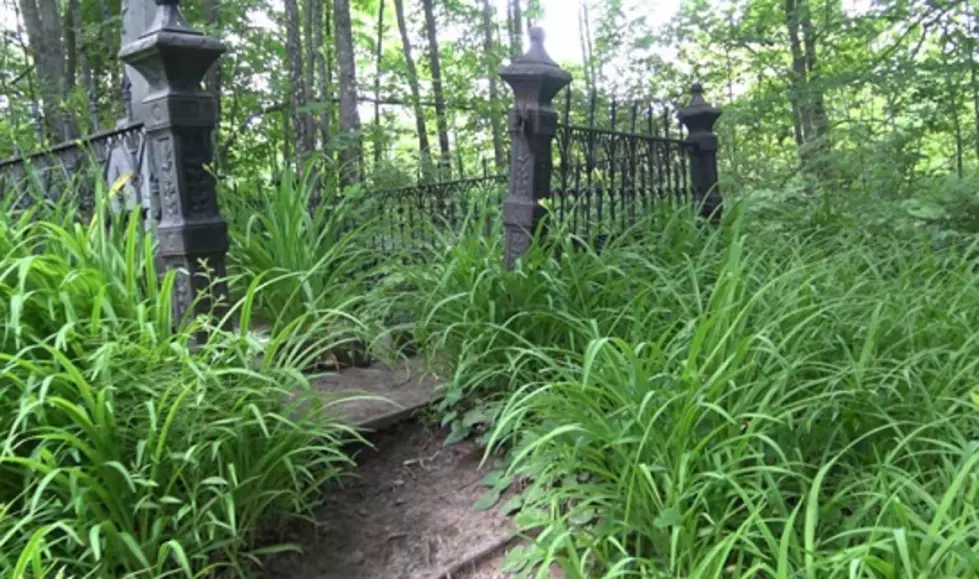 The Legend of Irish Hollow Cemetery
Screenshot courtesy of EG SCARY, youtube
Many times cemeteries can be scary…other times they can be beautiful, peaceful places to walk and think.
The Irish Hollow Cemetery south of Rockland in the U.P. is one such place. Some people find this place frightening, but the greenery during the warm weather, and the snow-covered ground in winter gives a serene feeling to many visitors.
But, this graveyard is not without its legend.
The story says that the cemetery was being dedicated in the early 1900's, and Rockland townspeople turned out for this big event. Rockland was a typical small U.P. mining town and the residents were proud of their successful community…..so a decent turnout for a local cemetery was not unusual.

Among the attendees of the ceremony were the parents of a little girl, who showed no interest in going to see some 'silly graveyard party.' She'd rather stay home and set off her firecrackers. Mom & dad told her she could stay home, but 'don't play with your fireworks until we get home.'
Needless to say, as soon as the parents left, the girl hauled out her firecrackers and set some off…..in the house. A curtain caught on fire and the flames spread quickly. Desperate for help, the girl ran to the graveyard, yelling for someone to come help. Her pleas went ignored until the crowd saw smoke in the distance. The fire spread, and ended up burning most of the town with it.
Today, there are still some great old buildings that survived, as well as a good handful of newer ones. There have been paranormal investigators visiting the cemetery from time to time, but nothing conclusive seems to have shown up.
The town of Rockland and the Irish Hollow Cemetery still survive and await your visit…I am most certain, you will get some good photos and video if you roadtrip there!
Remember - respect any and all cemeteries and personal properties. Don't be an obnoxious, destructive idiot and ruin it for others.
UP NEXT: Your Own Personal Haunted Michigan Lighthouse Tour Roadtrip
MORE INTRIGUING STUFF:
Plank Roads
Ten Forgotten Clinton County Towns That Practically Vanished
25 Michigan Roadside Oddities
The Old Kilmanagh General Store
The Lighthouse Ladies