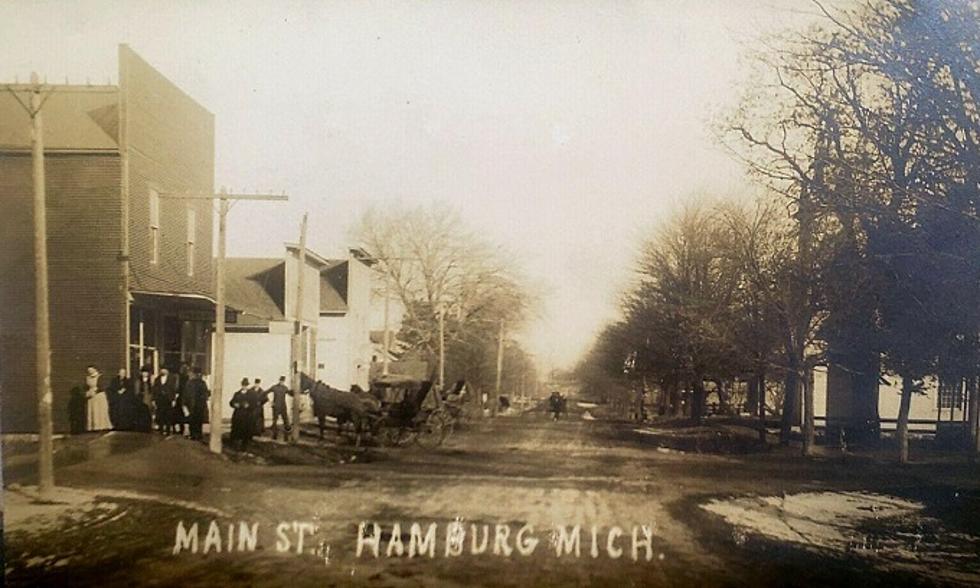 Stuck In Time: The Michigan Town of Hamburg, Livingston County
available @ worthpoint.com
If you haven't yet checked out any of the small towns I've written about, then you need to visit this one…Hamburg, in Livingston County.
Hamburg originated in 1835 when E.F. Gay built a sawmill and dam on Horseshoe Creek, a branch off the Huron River.
In 1837, the Grisson brothers from Germany bought the mill and added a new grist mill. With the success of the mills, the Grissons built a hotel and store. The hotel – called the "Hamburg House" – had a saloon and livery stable; the town had a barber shop, hardware store, Schafer's grocery & general store, a town band, doctors, depot, blacksmith, and other shops and stores.

That same year, a council of 19 convened to give this new town a name. Eight of them wanted "Lenox" while another eight wanted "Steuben". Reaching a stalemate, they decided to let the three Grisson brothers name it…and they decided to name it after their hometown, Hamburg, Germany.
Originally spelled "Hamburgh", a post office began operations in that same year of 1837. In 1852 the name was changed to "North Hamburgh". Then, finally, to "Hamburg" in 1894.
The Grand Trunk Railroad came through in 1883 and the Toledo & Ann Arbor Railroad did the same in 1886.
In 1968, the old hotel was burned down thanks to a local bunch of punk arsonists.
Today, Hamburg retains many, many of its old buildings and there are plenty of photo ops. Hamburg's old district is found on a one-mile stretch of Hamburg Road, between E. Michigan 36 and Strawberry Lake Road. You'll see the old railroad tracks, original old barber shop, cemetery, mill, old houses, and a nice handful of old downtown storefronts.
You wouldn't think that within a conglomeration of lakes, resorts, modern neighborhoods, parks, townhouses, apartments, subdivisions, etc. that there would be this little old 1800's hamlet stuck in time, right in the midst of it all!
Take a look at the photos below and see how cool this little community is!
HAMBURG GALLERY
13 Michigan Ghost Towns You Should Visit This Year
A Michigan 'Ghost Town' tour is great any time of year. Here are 13 to get you started!
15 Michigan Towns Everyone Should Visit At Least Once
It's hard to choose because there are so many amazing Michigan towns to visit, but here's a list of 15 random ones to get you started!
50 of Michigan's "Must-Drive" Roads
Gas up the car, grab those road munchies and a roadtrip partner that you can trust, and head out on some of Michigan's most unique roads and routes. Make sure you take lots of photos and video!
Ten U.S. Towns That Have 'Michigan' in Their Names
Michigan's 19 Smallest Towns (According to the Census, Which Means It's Not Really Accurate)
These towns in Michigan are the smallest in our state according to the latest census data. Take a look and see how many of them you know!
This is One of Michigan's Smallest Towns
The Census Claims This Town is One of Michigan's Smallest