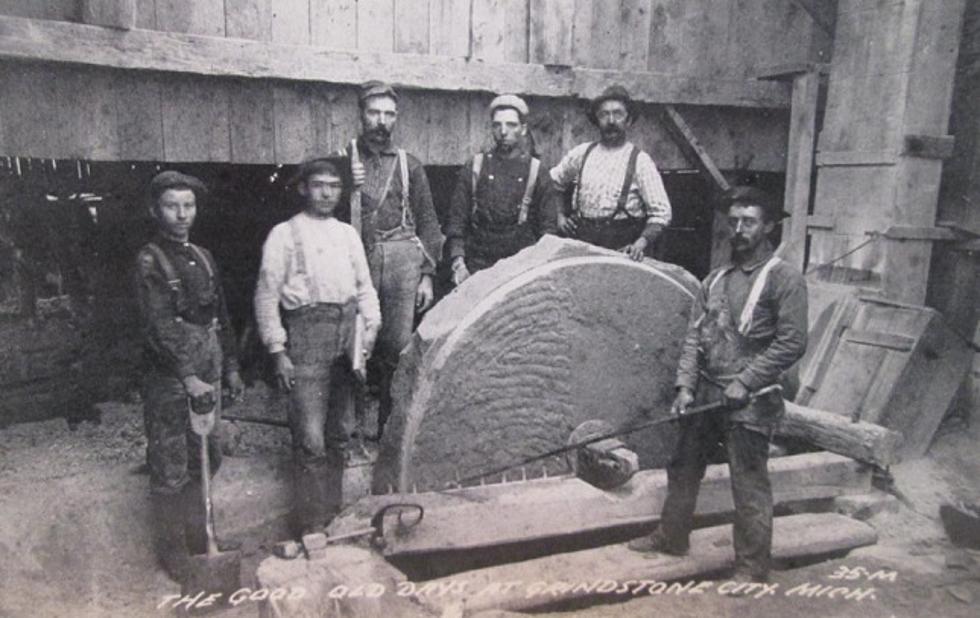 MICHIGAN GHOST TOWN: The Rise and Fall of Grindstone City
available @ worthpoint.com
Grindstone City in Huron County had the first major business in the upper Thumb area, producing the best quality grindstones worldwide.
In 1833, Captain Aaron G. Peer and his brother went into the lake transport business and ended up at the tip of Michigan's Thumb. Deciding to settle, Peer opened his own grindstone quarry, and by 1850 was producing $3,000 worth of grindstones every year. More quarries were opened, and soon the Lake Huron Stone Company and Cleveland Stone Company took over all the area quarries.
By 1888, Grindstone City had a population of about 1500. But the prosperity brought by the grindstone business wasn't to last.
In 1893, Edward G. Acheson created artificial carborundum while attempting to make fake diamonds (isn't that supposed to be a crime?). However, the carborundum eventually took the place of grindstones, and the quarries couldn't make a decent – if any – profit. When the Great Depression hit, that was the final nail in the coffin. By 1930, Grindstone City's quarry operations breathed its last and came to a screeching halt.
Grindstone City was also a station along the Port Huron & Northwestern Railroad. A post office was established in 1872, operating until 1962.
Nowadays, the Grindstone City Historic District consists of quarry sites and two old buildings. The majority of quarry pits have been filled with refuse, brush, and stone. There are plenty of old structures and homes throughout the countryside, the original general store is still there on Copeland Rd., and a unique old schoolhouse sits out in the countryside on the corner of Rouse Rd and Grindstone Rd.
There's also old grindstones scattered throughout the area…you'll find 'em in storefronts, front yards, along the streets, and even a stone wall with encased grindstones (SEE PHOTOS BELOW). Sitting near Lake Huron, Grindstone City is also a popular fishing village.
Visit this historic Michigan site when you take a roadtrip through the Thumb!
GRINDSTONE CITY GALLERY
MORE COOL MICHIGAN STUFF!
CHECK IT OUT: Huge Underwater Sinkhole Near Alpena
MORE: A Close Look At the Firemen's Memorial in Roscommon
MORE TO EXPLORE: Michigan's Grand Canyon
Check Out This Awesome Scale Model of the Grand Haven Pier
MORE: The Great Michigan Moose Transfer of 1985