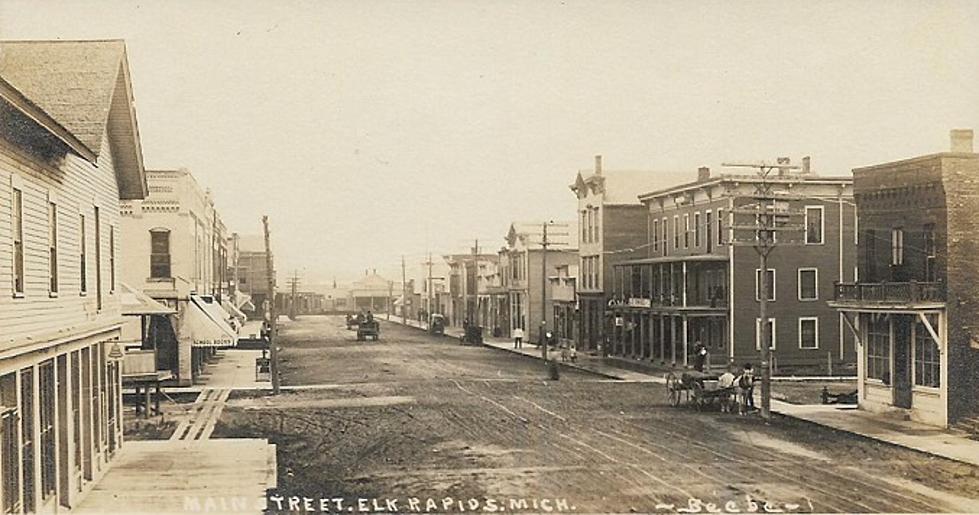 Underwater Drone (and some Vintage) Photos at Elk Rapids, Michigan
available @ worthpoint.com
Once upon a time, there was a little Michigan settlement by the name of 'Stevens'. It was founded in 1848 in Antrim County by a man from Connecticut, Abram S. Wadsworth. Wadsworth built himself a log home, which became the first white man's home in the entire county.
In 1852, Wadsworth platted the village and christened it 'Stevens'. Six years later, he was out walking near the mouth of the river when he found something sticking out of the sand: a pair of elk horns. It must have impressed him to a great extent, for he went ahead and re-named 'Stevens' to 'Elk Rapids'- not stopping there, Meguzee (Native American for 'Eagle) Lake was changed to Elk Lake, and the river was also dubbed 'Elk' River.
Thanks to its location, Elk Rapids grew into a major resort site, bringing vacationers, tourists, fun-seekers…..and their money.
The Elk Rapids Iron Works kicked off in the 1870s, further boosting its economy; thirty years later, it became the county seat of Antrim County…until Bellaire swiped that title in 1880.
Along with the Iron Works and tourist money, Elk Rapids boosted its good fortune with a cement factory, chemical plant, and a station on the Chicago and West Michigan Railroad. With a population reaching 2,000, Elk Rapids was booming, mainly from 1890-1910: hotels, shops, and entertainment. Then, in 1916, it came crashing down when the Iron Works went under.
Elk Rapids felt the crunch until the 1950s when it bounced back with an all-new tourist trade, thanks to the construction of US-31. To this day, Elk Rapids remains one of Michigan's favorite 'get-away' destinations.
Elk Rapids Vintage Photos (and Underwater Drone Shots at the Dam)
MORE MICHIGANIA:
The Hardy Dam
15 Michigan Dams To Check Out
Michigan Ghost Town of Redridge