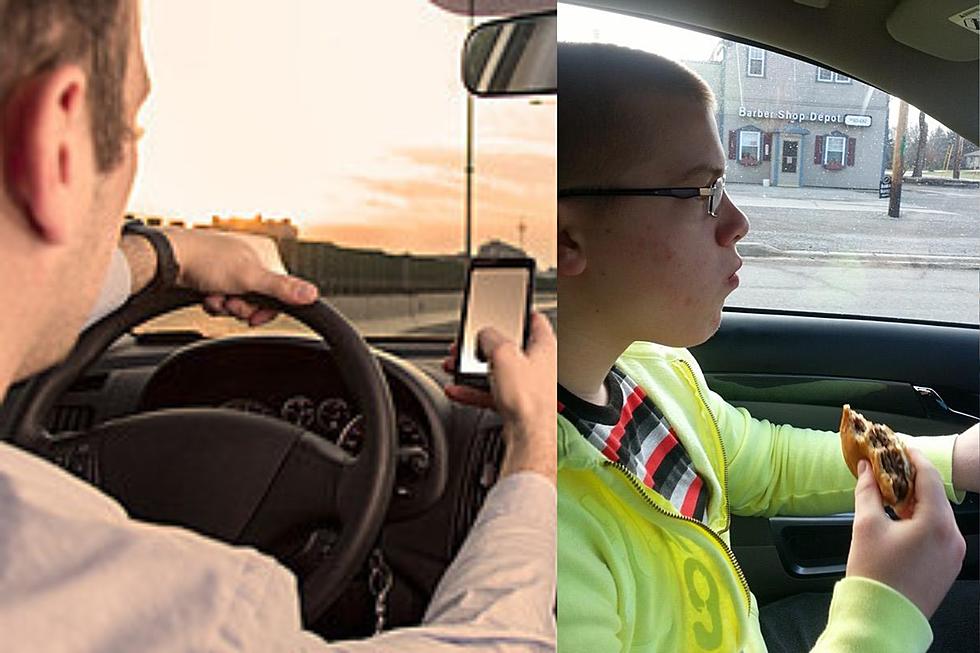 Distracted Driving in Michigan: It's a Lot Worse Than You Might Think
Thinkstock/gmcintyre
Is that cheeseburger worth dying for? That's a question being asked as Michigan ramps up a campaign to encourage motorists to recognize the dangers of distracted driving.
Most of us think of texting when the topic of distracted driving comes up. While that's undoubtedly a significant distraction, the Michigan Secretary of State's office says eating or consuming beverages while behind the wheel can increase the risk of being in a crash by as much as 80 percent.
April is National Distracted Driving Awareness Month. Law enforcement agencies across Michigan are teaming up with the Michigan Office of Highway Safety Planning Agency for a campaign called 'U Drive. U Text. U Pay.'
Young Drivers Are the Worst Offenders
Research indicates that Millenials and Generation Z are the most distracted drivers here in Michigan, often being prone to using cell phones to talk, text, and scroll through social media channels while on the road.
Here in Michigan, 6.7 percent of drivers are under the age of 21, but that group accounted for 18.1 percent of distracted-driving crashes in 2021, the latest year for which data is available.
More Stats:
In 2021, 5.9 percent of Michigan crashes involved a driver that was distracted behind the wheel.
There were 16,543 vehicle crashes in our state during that same year and 59 of those crashes resulted in a fatality.
Texting While You're Stopped at an Intersection is Still Illegal
Have you ever followed a vehicle that doesn't move for a prolonged time after a light turns green? There's a good chance that the driver is being distracted by a cell phone. In 2021, 37.1 percent of crashes involving a distracted driver actually occurred at an intersection.
It's a Costly Endeavor
Texting while driving has been illegal since 2010. Violating Michigan's texting-while-driving law can result in a $100 fine on the first offense and a $200 ticket for each subsequent offense.
Flint Area Restaurants at Least 50 Years Old
These Genesee County Restaurants Have Been in Business Over 50 Years.
Detroit Red Wings Legend Chris Chelios Lists Beachfront Home, $75 Million
10 Big Events Coming to Detroit in 2023 You Don't Want to Miss
Check out 10 cool events that will hit Detroit this summer that are not concerts.