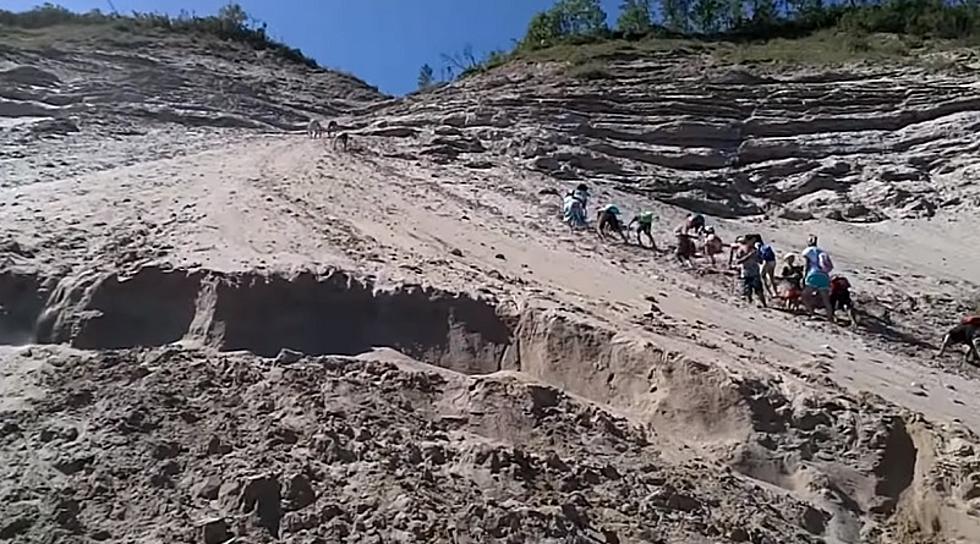 The 300-Foot Drop of Devil's Slide: Grand Marais, Michigan
D Maki, youtube
Michigan has its share of the devil: Devil's Washtub, Devil's Kitchen, Devil's Golf Club, Devil's Hill, Devil's River, Devil's Hole, numerous lakes by that name, and more throughout the state.
And now, here's yet another: Devil's Slide. It's an old, 300-foot logging slide that was used by lumbermen in the 1880s thru the early 1900s to slip logs into Lake Superior and float 'em or haul 'em down to nearby sawmills. This particular slide is located in the Pictured Rocks area, Grand Marais, Alger County, in Michigan's Upper Peninsula.
The dunes in Grand Marais are among the steepest in the entire state…but that does not deter visitors to slide down on their own. Many people go there to slide down the former log chute, but sliding down sand is almost impossible. Best way to try is with a huge sheet of wax paper, or even one of those snow saucers. If you go in winter, you risk sliding directly into the freezing lake, so it's a good idea if you wait until warmer weather.

The slide is long gone…and it was gone too soon. So soon, that there are no known photos of it while it was in operation.
Why was the chute removed?
It's believed that when the red & white pine trees were depleted in the area, it was time to move on to another densely populated forest region. Therefore, the chute was more than likely dismantled…..if it was left to rot, there would be at least some old remnants. Today, Devil's Slide is a place where visitors go to swim, slide, picnic, and hike.
One last thing: why was it named Devil's Slide?
The logs would travel down the chute so fast, friction would cause some of the logs to catch fire. It was common for ship crews to see fire and billows of smoke as they sailed through Lake Superior.
Devil's Slide, Grand Marais
MORE UPPER PENINSULA:
Old Victoria, Upper Peninsula Ghost Town
Ghost Town of Skanee, Upper Peninsula
Abandoned Gas Station on US-2, Upper Peninsula