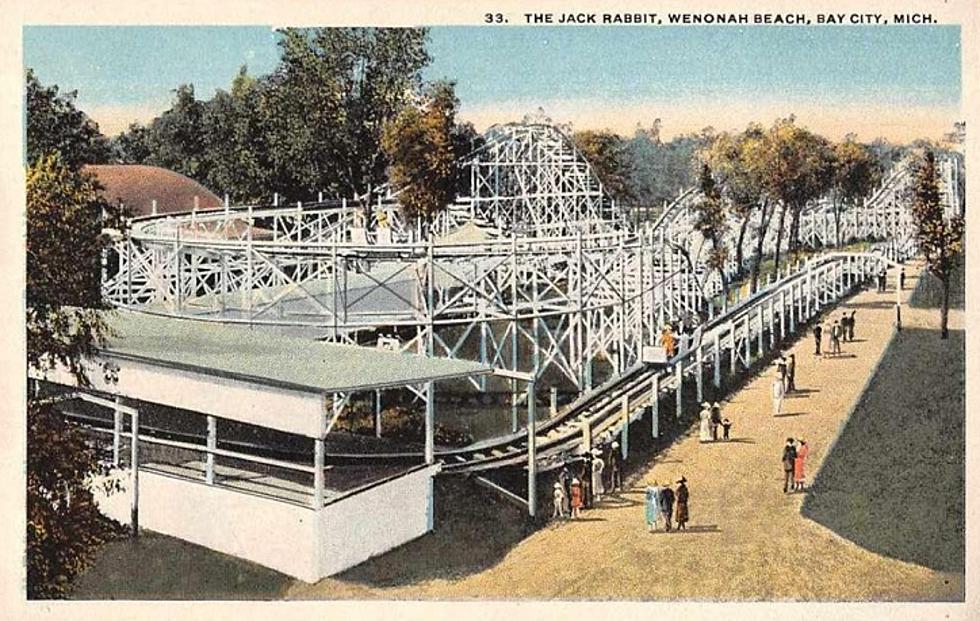 Former 1887 Amusement Park, Now a Mobile Home Park: Bay City, Michigan
available @ worthpoint.com
The Wenona (sometimes spelled "Wenonah") Beach Amusement Park had a nice long run...until it was demolished and turned into a mobile home park. It sat along the shore on Saginaw Bay just north of Bay City near the Saginaw River.
Originally the park was called "O-at-ka Beach", changed to Bay View Resort in 1876. It was at this resort in the 1870s that the legend of Paul Bunyan began to grow. Fabian Joe Fournier, on whom many believe the Paul Bunyan character was based, had a brawl here with Blinky Robertson.....not long afterward, Fournier was found dead on the nearby steamboat dock.
A few years later in 1887, the resort name was changed again to the Wenona Beach Amusement Park, bankrolled by a handful of wealthy lumber bigshots.
By the early 1900s and 1920s, customers were flocking from various Michigan counties to have fun at this "Coney Island of the Lakes." As for a way to get there, trolleys and buses made regular trips to and from the park.
THE PARK INCLUDED:
Ballroom
Bath houses
Boardwalk
Boating
Bullet centrifugal force ride
Bumper cars
Carnival games
Casino
Circular Swings
Concession stands
Dancing
Docking facilities
Ferris wheel
Jack Rabbit roller coaster
Joy Wheel
Pavilion
Pier into the Saginaw Bay
Roll-O-Plane
Roller Skating
Second roller coaster
Steam carousel
Swimming
Vaudeville performances
The casino brought in some of the biggest showbiz names of the time: The Marx Brothers, Ozzie & Harriet, Jack Benny, W.C. Fields, Perry Como, and many others.
The park's downfall began in 1947 when a severe storm came through the entire country with 70 mph winds. Forty-foot-tall mounds of ice slammed into the bath house and roller coaster causing extreme damage. From then on, attendance dwindled constantly until the park finally closed for good 17 years later in 1964.
The mobile home park took over and opened the following year.
The Defunct Wenona Beach Amusement Park, Bay City
MORE MICHIGAN 'MUSEMENTS:
Oakwood Amusement Park, Kalamazoo: 1907-1925
Au Gres Water Funland Amusement Park: Torn Down
Abandoned Fun Country Amusement Park