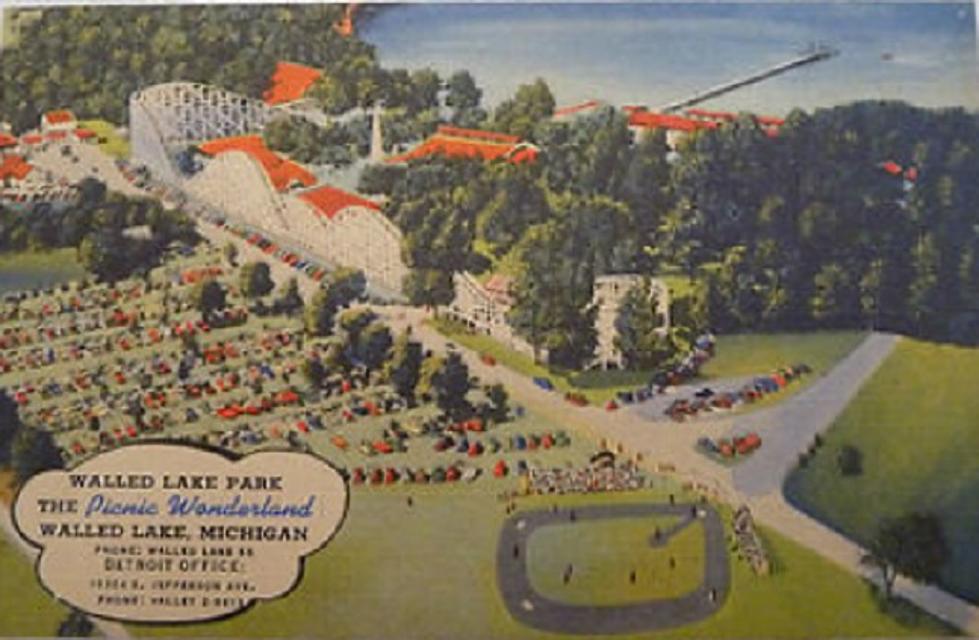 Walled Lake Amusement Park, 1919-1968: Oakland County, Michigan
available @ worthpoint.com
Walled Lake Amusement Park had its genesis in the early 1900s. It started out as a bathhouse with a little dance hall on the south end of the lake in 1919. The hall featured many big bands of the day, and soon the place was constantly swarmed with up to 1000 people every night.
Aware of the success of the dance hall, in 1921 Herman Czenkusch constructed his own, larger dance hall just across the street: the Cenaqua Shores Dance Pavilion (with a restaurant). He also built a larger bathhouse, a two-story wooden water slide, and started showing movies. That November, his bathhouse and water slide burned down. Accident, or intentional?
Herman retaliated by building an even larger facility.
Failing to compete with Herman's complex, the owner of the original dance hall across the street was sold and re-opened as the Casino Shore Dance Pavilion in 1923.
Herman fought back by giving a way a free car.
Casino Shore retaliated and built a larger casino that opened in 1925.
In 1929, roller coaster maker Fred Pearce leased Herman's property and sat "The Flying Dragon" roller coaster on the grounds. This was the move that turned the casino/beach area into Walled Lake Amusement Park. With extra added rides like "The Pretzel" and Tilt-a-Whirl, the park opened on May 9, 1929. Before it rose in popularity, Herman Czenkusch passed in August 1929 before he had a chance to enjoy its success.
More large wooden water slides were added, which eventually led to one of the park's darker moments. A little girl from Detroit died from using a slide (no details how) so they were closed and dismantled.
The casino closed during WWII and re-opened in 1946. The amusement park and beach continued into the 50s and started to decline, thanks to more people buying swimming pools and TV sets keeping them home. Patronage got so bad, the casino closed in 1960. It re-opened in 1965 as 'Club -a-Go-Go' and booked rock/pop acts, like Chuck Berry, Fabian, and Stevie Wonder.
Christmas night 1965, the club burned down thanks to a burning cigarette thrown into a wastepaper basket. And that was the end of the Walled Lake dance era.
The amusement park deteriorated with not enough funds for repair, so it, too, shut down..... permanently, in 1968.
Walled Lake Amusement Park: 1929-1968
MORE AMUSEMENT PARKS:
The Former House of David Amusement Park
White City Amusement Park, Then and Now
Liberty Amusement Park, Battle Creek: 1864-1932