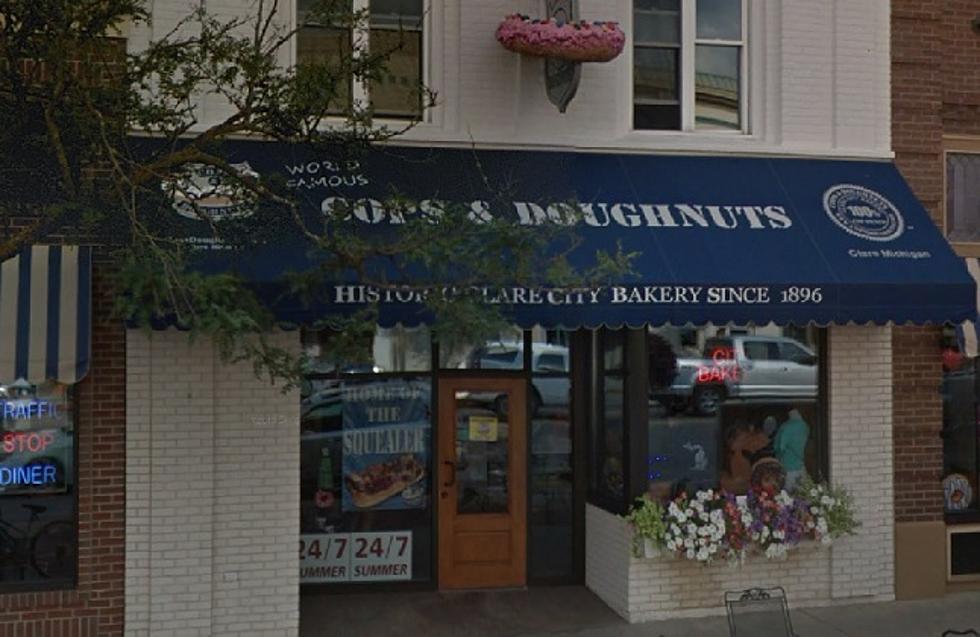 Cops & Doughnuts: How the Police's Love of Donuts Became a Successful Bakery: Clare, Michigan
Google Maps
"Cops and doughnuts" has been an ongoing joke for decades, with comedians, politicians, TV hosts and just about everyone else making some kind of wisecrack about a cop's love of doughnuts. But why? Why the correlation between the two?
This person-and-pastry love affair goes back to the 1940s. There weren't any legitimate 24-hour restaurants or party stores where third shift officers could get a bite to eat...none except for little bakeries where they could at least get some fresh pastries – mostly doughnuts. How come? Because bakeries had to begin baking early – like 2, 3, or 4am - to be ready for the mad commuter rush. On-the-way-to-work employees  would stop to get a bag or box of doughnuts to eat in the car and/or take to work.
That said, Michigan's famous Cops & Doughnuts bakery originated in Clare, opening up as far back as 1896 as the Clare City Bakery. For years it served the people of Clare County until finally, over 100 years later, it was doomed to close due to economic pressure. A local police officer, Greg Rynearson, retired from the force and was determined to keep this historic little bakery open. Greg, along with eight other officers, bought the bakery and re-named it 'Cops & Doughnuts' (don't ever spell it as "donuts").
Along with baked goods, they have their own brand of coffee, a sumptuous line of baked sweets and goodies, a diner, and a gift shop that carries a line of police-related merchandise and souvenirs.
With a few other locations in Michigan, the original C&D is located at 521 N. McEwan Street in Clare. The bakery boasts up to half a million customers annually, so let's see if we can make that total spill over a full million...
Cops and Doughnuts
MORE MICHIGANIA:
Michigan's (and America's) First Police Dispatch, Belle Isle
'
Dawn Donuts Memorabilia & Collectables
Haunted Original 6th Precinct Building, Detroit