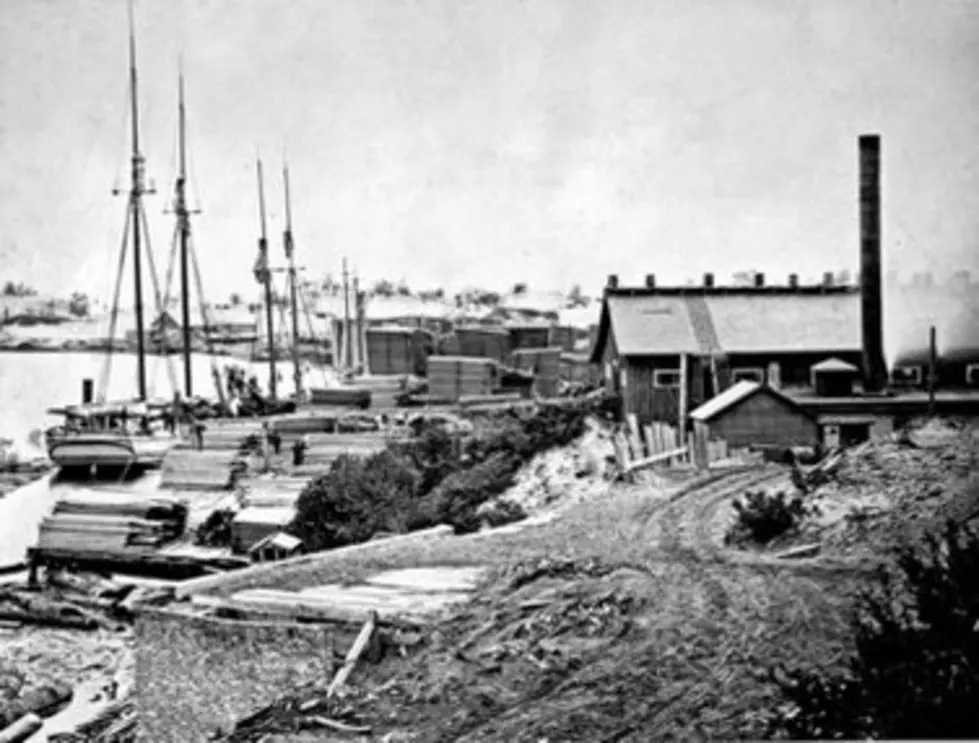 Buried Ghost Town: Singapore, Michigan
Michigan has dozens of ghost towns dating back to pre-statehood, post-statehood and Civil War eras. Many of which you'll find in the Upper Peninsula of Michigan -- mining towns of yester-year.
There's one ghost town you can't see anymore, but still exists on the Westside of the state, near Saugatuck:  Singapore, Michigan. This former lumbering & shipbuilding town was founded in 1836 by a guy from the Northeast.  His thinking was "why couldn't this be a port as large and successful as Milwaukee or Chicago?"  For 30+ years, it was a success with hotels and numerous businesses.

Fast forward to several midwestern fires from Chicago, Holland, Manistee and more around 1871. The area around Singapore, Michigan was deforested because so much wood was needed to rebuild in those other communities. So, why wouldn't Singapore exist with fewer trees?
Turns out, winds off Lake Michigan caused a great deal of erosion. Without trees to prevent sand from becoming a problem... Singapore, Michigan was essentially buried by a couple of sand dunes. Over time, people have found the tops of houses and various artifacts from that era including tools, building materials and everyday items you'd find in someone's house.
Not every building was lost -- when the Kalamazoo River froze over, people used giant logs to slide a few houses and a bank to Saugatuck before the sand could cover them.  You can see the Singapore Bank Building on Butler Street in Saugatuck -- it's now a gallery/bookstore. A couple of the houses still exist, too.
Maureen Hayes told WZZM-TV in 2019 about the house she purchased at 333 Lucy Street in 2011 -- The historic commission was there at the time they closed on the property to say "Do you realize you have a Singapore house?"  They did -- and have gone to great lengths to preserve it.
So, if you're on the west side of Michigan near Saugatuck, look closely for buried history. You might even come upon the old Dugout Road -- the main drag into and out of Singapore. It's still around -- essentially an overgrown trail you can follow to the sandy history of a buried Michigan city. Check out more of this history, including one of the banks printing its own money, here.
Singapore Michigan by rossograph / CC BY SA 4.0 (No Changes Made)
Abandoned Detroit Zoo
Remember the Belle Isle Zoo? Sadly the property has been neglected - and all but forgotten - since its closing in 2002.
WARNING: Under no circumstances should you enter this property. By doing so you risk bodily harm and/or prosecution for trespassing on private property.
Michigan Homicides That Have Gone Unsolved For More Than 25 Years
Sadly, the Mid-Michigan area is reputed to be a dangerous place to live. Thanks to Crime Stoppers, we've compiled a list of 15 homicide victims whose lives were tragically taken long before their time.
Their murders have gone unsolved for more than 25 years.
Spend the Night in This Spooky Hocus Pocus Cottage Airbnb
Get ready for everything that goes bump in the night, because the Sanderson sisters are back. To celebrate their resurrection, and their new movie "Hocus Pocus 2", they are inviting guests into a land of enchantment with a stay at a recreation of their magical Salem cottage. No detail has been spared to make your visit one you'll never forget. Only two lucky guests will have the chance to immerse themselves in this witchy world.
Feel like magic is on your side? Make sure you are ready to log on to Airbnb precisely at 1 pm on Oct. 12 for an exclusive stay on Thursday, October 20 for only $31.
Take a peek inside what awaits!