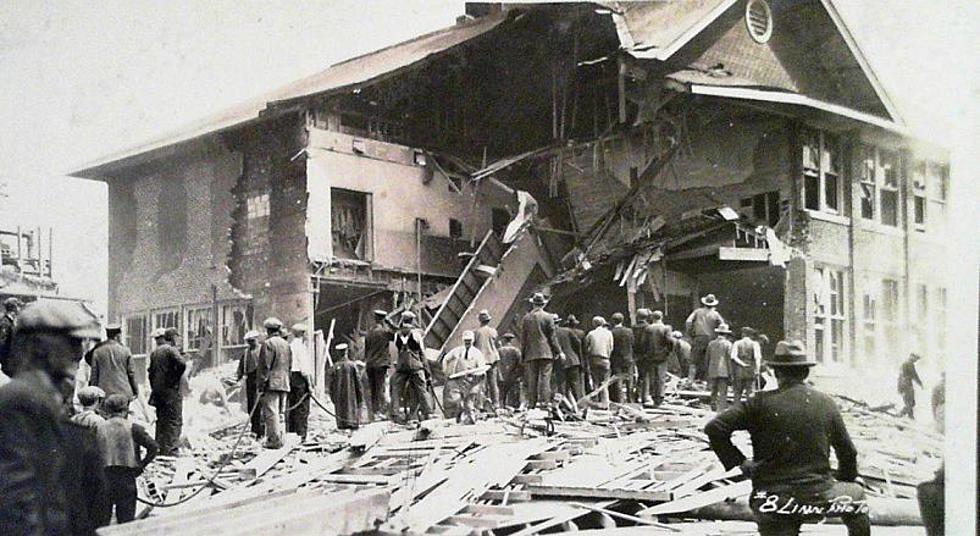 It Was 96 Years Ago: The Bath School Disaster – May 18, 1927
available @ worthpoint.com
May 18, 1927.
It's been known throughout the nation as the worst school mass murder in American history. That was when a local farmer and former member of the school board, Andrew Kehoe, blew up the school, killing one quarter of the children in the town of Bath, Michigan. 45 total, 58 others were injured.
According to Click on Detroit, When the school was consolidated in 1922, all the children in the region were brought to attend classes in this one school...and that meant higher property taxes to help funding. Kehoe was the school treasurer and was vehemently against this tax raise. His battles with superintendent Emory Huyck are legendary.
Failure to keep his position as township clerk in 1926, possible foreclosure on his farm, and a wife sick with tuberculosis, Kehoe's stress level had surpassed its ceiling.
It was determined that Kehoe planted all the dynamite in the school over a period of time, visiting the school after hours, planting a little bit more with each visit. He purchased his dynamite in Lansing and was not deemed suspicious, as many farmers of the time used dynamite for stump removal and land clearing. Not only did he load the school with explosives, but also his truck. It was around this time when Bernice Sterling, a grade school teacher, asked Kehoe if she could use some of his land for a picnic for the children. She recalled Kehoe's answer: "If you are going to have a picnic, you would best have it right away."
And sure enough, at 9:45am on May 18, the explosives went off in the school's north wing. Miss Sterling told the press, "I saw the bodies of my children hurled against the walls or through windows. Then I don't remember much what happened. The explosion stunned me and I could not do much until help came."
Meantime while all this confusion was going on, Kehoe had murdered his wife by crushing her skull and started to destroy his farmhouse. Then he drove his truck – filled with explosives – to the scene of the crime. Kehoe made it a point to get into a conversation with superintendent Huyck – right near the truck. While engaged in either a conversation or argument, the truck blew up, killing both men.
500 pounds of dynamite were discovered in another part of the school that failed to detonate...authorities also found a gasoline bomb, just in case the dynamite failed.
A makeshift morgue was ironically set up on the school playground and survivors were taken to Lansing hospitals. As for Kehoe's remains, his sister claimed them and had them buried in an unmarked grave in Clinton County.
Rummaging through the wreckage of the Kehoe farm, a sign was found attached to a fence that read Criminals are made, not born"...further adding to the mystery of Kehoe's mental stability.
After an attempt to save the rest of the school, it was finally demolished for good in 1975 and the land was turned into a public park along with a Michigan Historical Marker and the names of the lost lives.
Three days after the tragedy, Charles Lindbergh made his flight to Paris and the news media diverted their attention away from Bath and toward Lindbergh, leaving Bath residents on their own in their sorrow and misery. The media may have moved on to the next "big" story...but Mid-Michigan has not forgotten for almost 100 years.
And as far as the media was concerned, that was that.
Images of the Bath Disaster, 1927
MORE MICHIGANIA:
Old One-Room Schoolhouses & High Schools
Return to the 'Jeepers Creepers' Schoolhouse, Coldwater
Park Lake Resort & Beach, Bath