Beyonce Explains the Audio + Visual Aspects of 'Beyonce'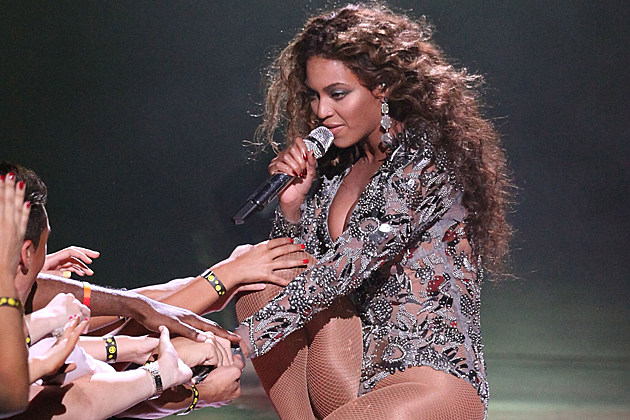 Beyonce changed the entire game when she released an album without any advance promo. Not only is 'Beyonce' some of her most personal and sensual music to date, but the videos to go with the songs are on another level. Queen Bey sat down with iTunes Radio to break down what went into each clip.
'Pretty Hurts'
"'Pretty Hurts' was such an incredible song, it's really difficult to find a song with such a strong message that doesn't feel preachy and Sia is such a genius," Bey gushed. "The second I heard the song, I'm like, 'I have to sing this song. I don't care how hard I have to fight for this song, this is my song!'" She continued, "I immediately saw the vision and I thought about pageants, and I thought about the most humiliating, judgmental place you can be as a woman. I feel like sometimes the world is a big contest, we're all being judged. I wanted to capture how humiliating and insecure that makes you feel," she said. "[Director] Melina was able to capture that emotion and capture the extremes we feel we have to go to to please the people that judge us. I knew from the moment that I recorded the song that she was the person that I wanted to bring the visual to life."
'Haunted'
"'Haunted' is a song produced by Boots, a producer I completely respect," Bey said. "He's an instrumentalist, he's a lyricist, he is an innovator, and I'm so proud to work with him. And the song is really about temptation in the music industry and being exposed to this craziness."
'Blow'
"'Blow' I shot in Houston, Texas," Bey said. "In FunPlex, which is a skating rink. We went back to and it was so strange because it was one of my first dates with one of my first boyfriends at FunPlex," she revealed. "And now I got the whole FunPlex that I rented out and I thought I was balling," she laughed. "I'm like 'Man, this FunPlex is just for me!' But it was beautiful to be back there and to shoot with Hype Williams … he was the visionary for that. For him to bring out the art direction, the hood, the sex appeal and all the things he brings to the music industry, and kinda pays homage to everything brilliant that he's done — that was exciting for me."
'No Angel'
"This next song goes out to H-Town, here is 'No Angel.'" (Simple enough, right?)
'Yonce' / 'Partition'
"'Yoncé' is such an incredible song, I love it because it's really organic and the drumbeat was actually done in the studio by
Justin Timberlake
," Bey said. "He just started beating on these buckets & The-Dream started coming up with this little chant. And it's so exciting when something naturally happens that way. 'Partition' — I didn't need a pen & paper, it just kinda flew out of my mouth and it's one of my favorites." (It's also one of the sexiest songs
ever
!)
'Jealous'
"'Jealous' is a song about being human." (Beyonce, you are not human. You are a goddess. But we appreciate the pandering.) "We all get jealous, it doesn't matter who you are — at some point it's inevitable. I co-directed this video with some very talented people, we shot it in the streets of NYC at 4 in the morning, and it was freezing cold! But it turned out excellent."
'Rocket'
"'Rocket' is one of the most sensual songs," Beyonce said. "It reminds me of the vibe I got when I first heard D'Angelo's 'Untitled.'"
'Mine'
"
Drake
is one of my favorite rappers, he is extremely talented and I'm so happy he worked with me on this next song. It's called Mine."
'Bow Down / Flawless'
"The reason I put out 'Bow Down' is because I woke up, I went into the studio, I had a chant in my head, it was aggressive, it was angry!" Beyonce admitted. "It wasn't the Beyoncé that wakes up every morning. It was the Beyoncé that was angry. It was the Beyoncé that felt the need to defend herself! … I listened to it after I finished and said, 'This is hot! I'ma put it out!' I'm not going to sell it, I'm just going to put it out!'" She added, "People like it? Great, they don't? They don't. And I won't do it every day because that's not who I am. But I feel strong, and anyone who says it's disrespectful — just imagine the person that hates you, just imagine the person that doesn't believe in you and look in the Mirror in say 'Bow down bitch!'" she laughed. "And I guarantee you feel gangsta, so listen to that song from that point of view if you didn't like it before."
Next: Watch Beyonce Perform 'XO' for the First Time! Source:
Beyonce Explains the Audio + Visual Aspects of 'Beyonce'
More From 99.1 WFMK | The Best Variety of Lite Rock | Lansing Michigan