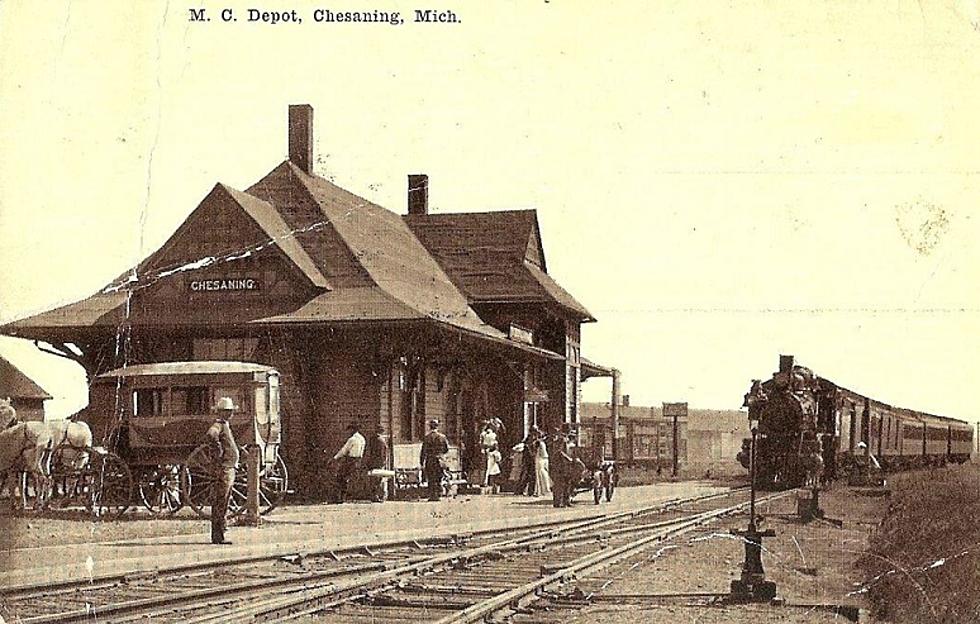 Vintage Photos of Chesaning, Michigan: 1900-1940s
available @ worthpoint.com
In Saginaw County, the community of Northampton was settled in 1839 by the Thomas Wright family. More settlers arrived in 1846 and in 1853, the Northampton village, community, and post office were all re-named after the Indian word for "big rock" – 'Chessening'. It was re-spelled and the community was incorporated as a village in 1869.
One of the major draws of Chesaning no longer exists; it was the Chesaning Showboat, which transported guests from the Broad Street Bridge to Showboat Park to enjoy concerts and performances by many top music performers and comedians. The Chesaning Showboat Festival began in 1937, and over the years featured performers such as: Alabama, The Beach Boys, Bobby Goldsboro, Bobby Rydell, Bobby Vinton, Brenda Lee, Charlie Daniels, Fabian, Frankie Avalon, Frankie Valli, George Gobel, Hinder, Homer & Jethro, Jo Ann Castle, Louise Mandrell, Marie Osmond, Phyllis Diller, Randy Travis, Sawyer Brown, Sugarland, Three Dog Night, Willie Tyler & Lester, and many others.
The boat was The Shiawassee Queen which served its purpose for years until 2013. The festival called it quits and the showboat was put out to pasture. It was sold for a measly $50 and destroyed afterward. A sad ending to such a fine institution.
Other than that, Chesaning is a haven for broadcasters. It contains three 1,000-foot-tall communication towers. Both radio and TV towers located here are able to strongly broadcast to and from Bay City, Flint, Lansing, and Saginaw.
The gallery below shows a good handful of old photos of Chesaning, showing what the town looked like over 100 years ago.
Chesaning, Michigan: 1900-1940s
MORE VINTAGE MICHIGAN:
Vintage Photos of Carson City
Vintage Photos of Hillsdale, Michigan
Vintage Photos of Carsonville, Sanilac County