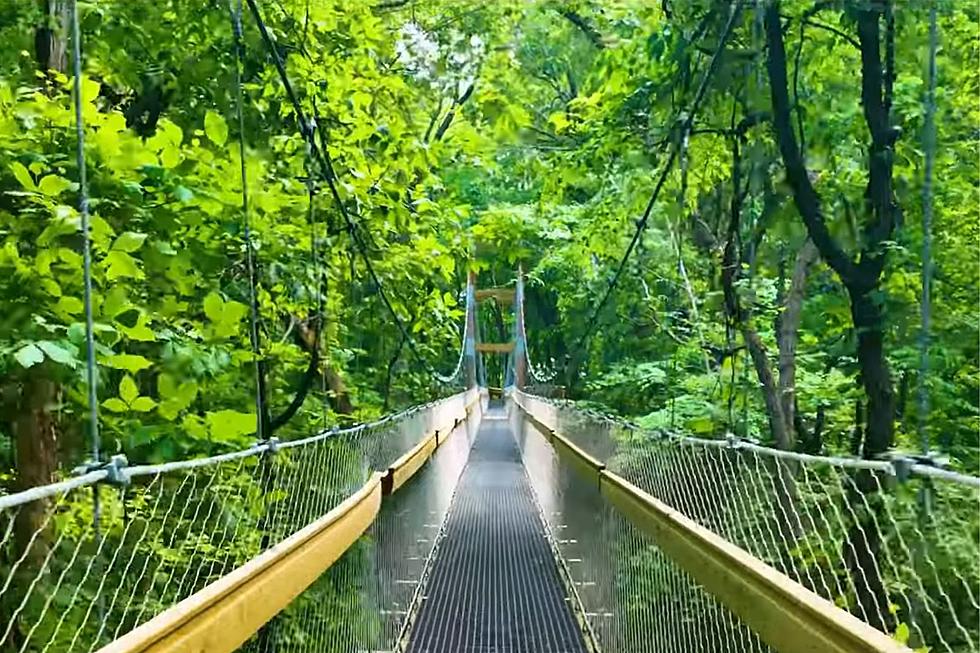 Soak in Michigan's Fall Colors With Tipton's Sky Canopy Walk
Living in Irish Hills Michigan via YouTube
I can state two things quite confidently as we approach the final stretch of the year:
Fall is arguably Michigan's most beautiful season.
Fall is incredibly brief.
It's with the latter in mind that I recommend we, as Michigan natives, remind one another to take advantage of this season's majesty by soaking in every last autumn hue. If you're a nature lover, might I suggest you add a picturesque drive on M-50 just outside of Tipton to your fall 'To Do List'.
Hidden Lake Gardens 'Reach for the Sky Canopy Walk' in Tipton, Michigan
If you grew up in Jackson or Lenawee Counties anytime after 1968, your first visit to Hidden Lake Gardens was on a big yellow bus with a sack lunch and a few bucks in your pocket just itching to be spent in the gift shop.
The land was originally purchased as farmland, but when Harry Fee realized the land wasn't crop-friendly he instead began growing plants you'd find in a nursery. In 1945 he donated the land to Michigan State with the understanding that it be used to educate and promote horticulture.
Continuing that promise, in 2022 Hidden Lake Gardens constructed the Reach for the Sky Canopy Walk, an accessible, one-of-a-kind wooden suspension bridge. This ADA-compliant walk is 65 feet above the forest floor and allows you to stroll through the trees.

Though the walk is handicap accessible the entrance to the canopy itself is located 1/4 mile away from the Trail Head parking area. People hiking to and from should be in reasonable shape with no serious health issues.
If you've never been to Tipton, Michigan's Hidden Lake Gardens make a point to put it on this season's bucket list. There are a slew of other things to do on the grounds, including trails, a conservatory, an arboretum, and a visitors center.  Even taking a drive around the grounds you'll be amazed at how extensive a collection of plants there are and how well labeled they are.
Admission for kids 4 and under is free, kindergarten through college is just $5 and adults are $10. One word of caution is there are occasional times when the canopy walk may be closed for inspection or repair. Notice of any planned closures can be found at the Hidden Lake Gardens website.
Canyon Falls: Michigan's Best-Kept Secret
Motor City Dragway: 1957-1978
Inside Aretha Franklin's Former Detroit Mansion
These 50 US Cities are Crawling with Bed Bugs
Every year the pest control gurus at Orkin put together a list of the Top 50 Bed Bug Destinations in the United States. Which areas do you travel to that you should take extra care to watch out for these blood-sucking insects? Let's countdown to the most bed-bug-riddled city in the United States.
Gallery Credit: Scott Clow