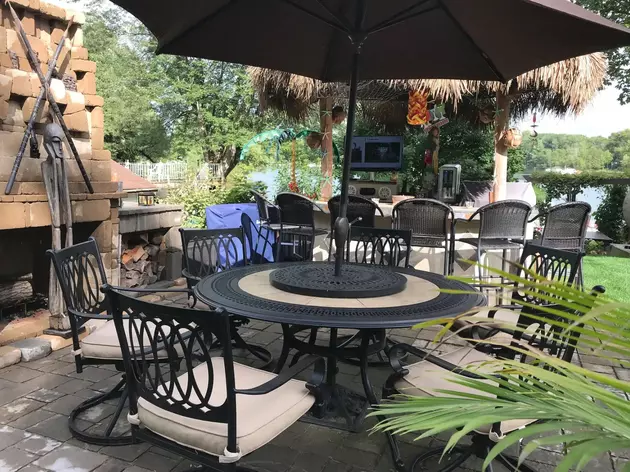 Tiki Bar At Vacation Rental? You Had Me At Tiki Bar
Pamela via airbnb
Since the coronavirus pandemic hit our country many airbnbs remain empty with many people choosing to stay home rather than stay at a rental property. Well I was doing some research (that's just fancy talk for screwing around at work.).
One property is located in Kent county and is only about an hour and a half drive from Mid Michigan. This Blue Lake Paradise with a Freaky Tiki Bar. I LOVE Tiki Bars. Fun Fact, I met my husband David Andrews at a Tiki Bar. It was the Boom Boom room which used to be in Frandor. My favorite drink was called a "flaming orgy." It was a huge bowl filled with God knows how much alcohol, and in the center was the flaming very strong liquor. It was served with super long straws, and you shared the drink with your friends (that would not fly these days).
The Freaky Tiki Bar rental is located right on the lake and offers beautiful sunsets, and did I mention a Tiki Bar is also included.
Scanning through the airbnb listing, this place is amazing and has had some serious updating done. The shower is HUGE and the kitchen looks very nice. Looks like there is a hot tub, but you would find me at the Tiki Bar. I would bring my own toys, though, because it looks like they are charging quite a bit to use theirs.
The property is located on the beach at Blue Lake, and it is private, unlike my experience last week at a beach on Lake Michigan.
This is a crazy but true story. Everyone on the beach was practicing social distancing, when a woman plopped her stuff right between 2 families. She then proceeded to shimmy off her shorts. Her underwear came off next (and yes you could see her bare butt). She folded her cloths and put them in her bag, then the tube top came off and she put on a bikini top. In case you're wondering, yes she had her boobs out before she got the bathing suit top on. Unbelievable, but she sure had the attention of the men on the beach.
Back to the airbnb. They also have a hot tub, and prices to rent the home run about $129 a night, and again it's in Kent county a nice relatively easy drive. And they have a TIKI BAR.

Enter your number to get our free mobile app
KEEP READING: Tips To Have The Best Boat Tubing Experience On Michigan Lakes