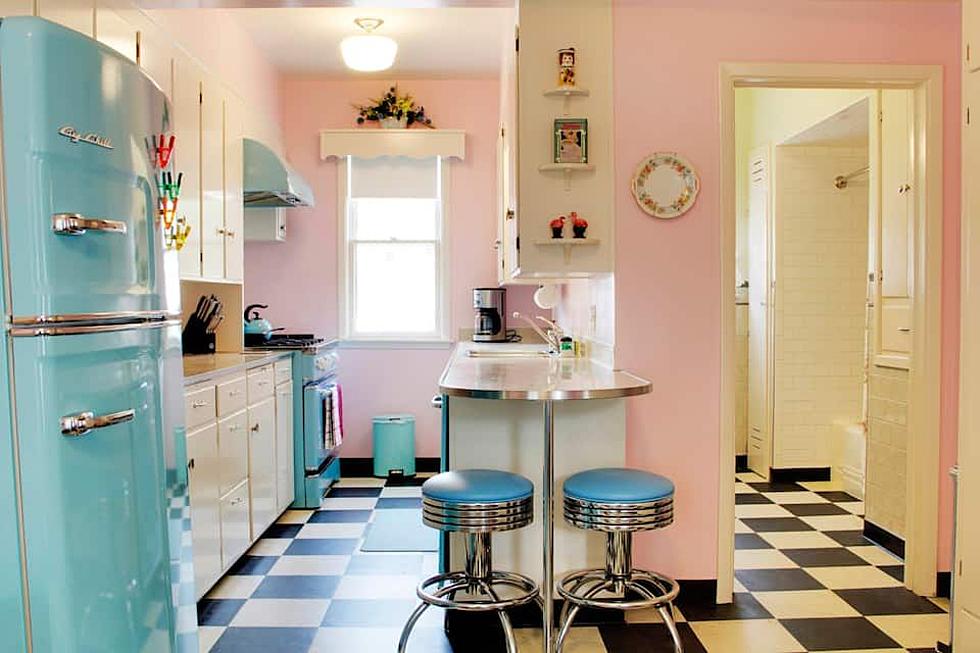 This Frankenmuth House Has a '50s-Theme Along With Some Comfy, Modern Features
Airbnb, Vicki
Talk about a step back in time. Check out the pictures below of this house in Frankenmuth that feels like you're stepping into a cool diner that's straight out of the 1950s. (Anybody else a fan of 'Happy Days'?)
This place has bright blue appliances, a black and white checkerboard square floor in the dining room and kitchen, and stools that look like they could be straight out of Arnold's Restaurant. (Another 'Happy Days' reference for anybody under 40)
This cool Airbnb is right off of Main Street in Frankenmuth and just a two-minute walk from the Riverplace Shops.
But just because this place is dripping with 1950s charm doesn't mean you have to give up the modern-day conveniences you've become accustomed to. There's WiFi, five TVs (including one 55 incher) heat and air conditioning, a dishwasher, and a PlayStation. And the washer is not a wringer washing machine. (Ask your grandparents.)
Vicki. the Airbnb host of the property, says the home is the perfect getaway for families or groups of adults who want to stay somewhere with lots of charm. It sleeps 12 people comfortably and is highly rated by previous guests, with glowing comments like:
"The house was perfect! So clean, so well stocked. Each room was a treasure! Then add a game room/additional house?! Stop… it is like a steal house! We were beyond impressed and will not stay anywhere but here every time."
Even if you're not looking for a place to stay, check out the cool pics below.
Check Out This 50s Themed Airbnb in Michigan
Here's a chance to step back in time to the days of poodle skirts, bobby socks, and saddle shoes.
This home in Frankenmuth features a cool 50s diner theme but also has some nice, modern touches -- like TV, WiFi, and indoor plumbing -- to make guests feel comfortable during their stay.
Check it out.
Heartbreaking Scenes from Oxford High School Michigan Shooting
Michiganders Weigh in on how to Keep A Real Tree Alive This Christmas
So you've made the decision to get a real Christmas Tree this year? Congratulations, now you just need to follow these tips on how to keep it alive.
Here are 10 tested tips from Michiganders to keep your Christmas Tree looking great all season long.