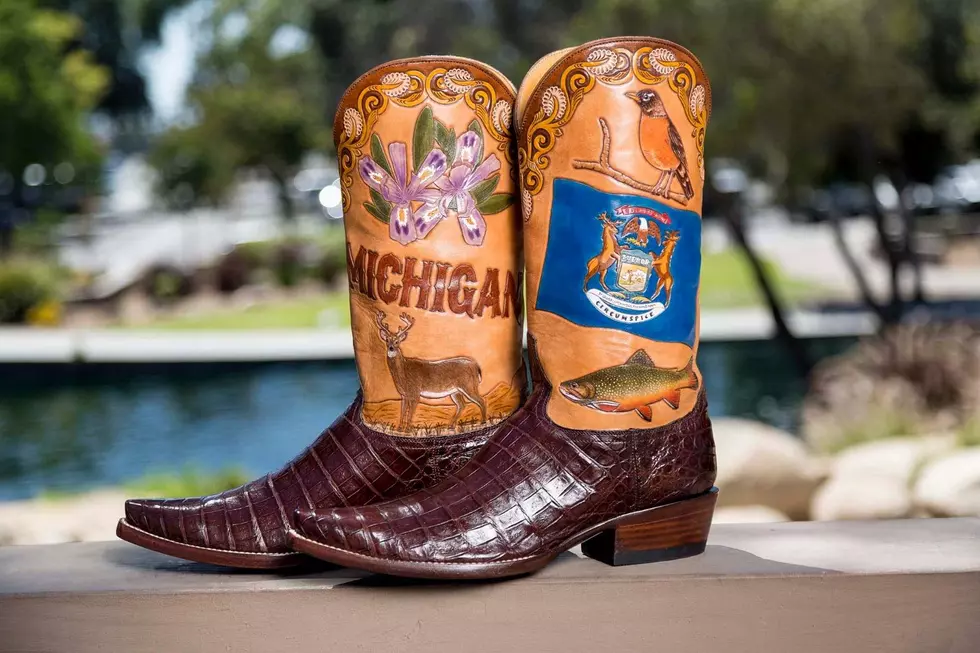 This California Company Wants Michiganders to Buy These Fashionable (?) Boots for $5K!
Old Gringo Boot Company
Even as a giant shoe-lover I can't see myself ever spending $5,000 on shoes let alone ones that you don't see many Michiganders wear.
Old Gringo Boots, a company from California, has come out with limited cowboy boots that represent the state of Michigan. I know that genuine cowboy boots aren't cheap but how often do you see people in our state walking around in cowboys? Probably not very often. Definitely not what you would see in states like Texas or Tennessee. So, to spend $4,995 on cowboy boots seems excessive... also a great way to describe the boots themselves because there is a lot happening.
On one side of the left boot-- the state flag is embroidered right in the center. Above it is a an American robin and below it is a trout, representing Michigan's animals in nature. The other side shows an outline of the Mitten state, Tahquamenon Falls, an apple blossom (the state's official flower), and a Petoskey Stone.
Remember, that was just one boot.
The right boot is also representing by having the word MICHIGAN  written across one side and the state seal on the other. And it wouldn't be a true Michigan boot without a picture of a deer or the Mackinac Bridge. Also included is the painted turtle which represents the State Reptile.
Even if you are willing to drop an easy $5,000 on these 100% leather boots, it'll be a long time before you actually get them because they take six months to make.
Michiganders have a lot of state pride so if you want to take it up a notch these cowboy boots will sure do it while making a fashion statement. Whether you consider that a good or bad thing, it's eye-catching nonetheless.

Enter your number to get our free mobile app
UP NEXT: How To Express Each Of The Five Love Languages To A Michigander