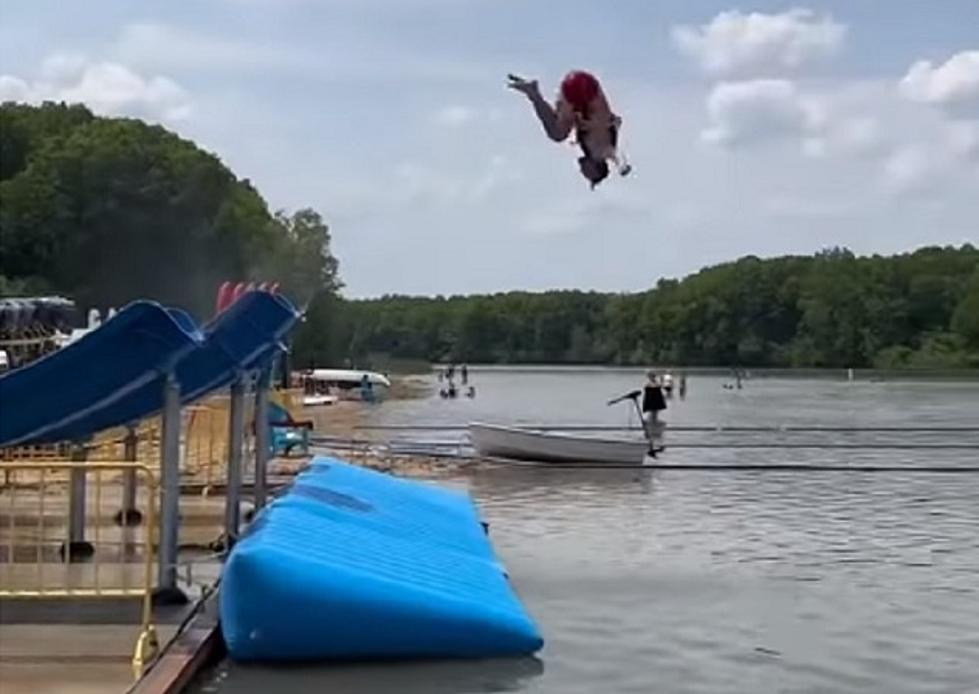 The Only Launch Water Slide in Michigan and Maybe the Whole Country: Lake Orion
MLive, youtube
What kind of water fun did we have when we were kids and we weren't old enough to drive ourselves to the lake? Well, we had those flimsy wading pools that only held less than a foot of water, slip n' slides (now those were fun!), a sprinkler, and the garden hose. All very simple, but we made 'em fun.
Then when we could drive, yeah, we went to the lake...and to water parks. And now, after all these decades, Michiganders now have a place to go that has our state's only launch water slide.
What took so long?
Michigan has had its share of water parks and water slides...but this is the first time we've had our own 'launch' water slide. It launches you into the air where you hover for a second or two then splash down into the water.
It's Water Warrior Island, located on the beach of Bald Mountain State Park in Lake Orion, 3361 South Lapeer Road. And there's not much waiting, as there are three slides, all thirty feet tall, at a 75-degree angle.
It's the first in Michigan, but is it also the first in the country?
Owner Sam Fulton says it is.
As quoted on Mlive, Sam says ""It's called the "Water Whoa Slide.....It's the first one in the country,....It launches you about 20-feet out. Each slide launches you a little higher." But Water Warrior Island does not stop there. The park also has an inflatable water park in the middle of the lake, kayak and paddle-boarding, and a floating cabana.
Okay, it's gotta cost. So how much?
ONE SLIDE -  $5
THREE SLIDES - $10
FIVE SLIDES - $15
TEN SLIDES - $25
UNLIMITED SLIDES - $55
The unlimited pass kicks off at 6pm M-Th and 7p on weekends.
Aside from the slides, you will need a State Park Recreation pass to get in and just plain swim in the lake or hang out at the beach.
The Only Launch Water Slide in Michigan, Lake Orion
MORE MICHIGANIA:
Au Gres Water Funland Amusement Park: Torn Down
Abandoned Fun Country Amusement Park
Pleasure Island Amusement Park, Muskegon: 1980s-1990s